HR managers are always looking for ways to streamline tasks and save time spent on traditional manual processes. And who can blame them? At the same time, employees are looking for a sense of control over their information and increased transparency with their company.
Here's the great news—both of these goals can be achieved with one simple solution. All you have to do is adopt an employee self-service technology system and let your employees have an ESS option. The benefits of employee self-service portals are huge. Workers can easily manage tasks like accessing company news, calling out sick, choosing benefits, and browsing open positions within the company, just to name a few.
And guess what? Employee buy-in when it comes to ESS systems isn't very difficult either—73% of US workers are open to employee self-service tools.1 Let's dig into what an employee self-service system is and why your company needs it.

What Is An Employee Self-Service (ESS) System?
What the heck is an ESS system? Glad you asked. An employee self-service system (ESS system) is a web-based tool that lets employees perform HR tasks and administrative duties themselves—without an HR staff member having to do it manually.
Think of it as a one-stop shop to get important info out to your team (like open enrollment). Sounds like an HR dream come true, right? An employee self-service portal puts all information in one place, making it easy for your team members to access.
Now, your company might have information like this available on the company intranet, but it probably isn't super easy to navigate. One of the biggest benefits of employee self-service is that it pulls all that information together for you in one place.

Your One-Stop Shop For Instant Access to Company Information
By simply sending a text message, your employees gain 24/7 access to important company information through their phones (phone numbers become their user ID).
What Are Some Employee Self-Service Features?
Employee self-service software features can make your company run smoothly and efficiently—with no headaches and pretty minimal effort. Here are some of the employee self-service features that companies make the most use of within an ESS portal.
Payroll

Employee contact information

Overview of benefits

Open Enrollment

Retirement investments

Company announcements

Employee recognition

News and events

Job openings

Surveys

Employee career growth

Training and certifications

Expense reports

Safety reports

Company protocols and procedures
What Are The Benefits of Employee Self- Service For Teams?
Employee self-service technology is especially valuable for frontline, hourly, or distributed workforces that don't log into a computer every day. Industries like manufacturing, logistics, retail, restaurant, and construction can all benefit from employee self-service features. Here's how ESS systems can help you boost engagement and connect with your team.
1. Increases Control and Ownership of Employee Data
Your team members can submit their own personal data, agree to company policies, manage open enrollment and administrative tasks, and list emergency contacts.
Plus, it makes updating employee information like phone numbers, addresses, or changes in marital status much easier to keep current. If your team member enters the information themselves, there is less chance of making a mistake.
2. Enhances Visibility of Workflow Processes
Employee self-service features allow for more transparency in processes and give employees greater visibility for workflows they need to do their job.
For example, when requesting time off, employees can see the dates they pick. They have the benefit of seeing exactly what they are clicking on instead of having an HR manager do it for them. Allowing them to go through the PTO request process gives them more transparency and helps them feel a sense of ownership too.
3. Highlights Employee Development and Career Advancement
With open positions accessible in the self-service portal, employees can be proactive and look for promotional opportunities within the company. The benefits of self-service will let your team browse and apply for current open positions on their own time.
No need to ask a manager what jobs are open within the company (which can be awkward if you're looking to transfer outside of your current team). The system can even have a tracking status capability so they can see exactly where they are in the hiring/transferring process.
You can even take it a step further by using your ESS portal to cultivate a culture of continuous improvement within your company. Using the benefits of employee self-service, your team can browse and enroll in online training and sign up for seminars and workshops. This allows employees to be more hands-on in their development and career advancement. It also gives management an opportunity to build out growth tracks for the team in an effort to boost employee retention by investing in the team they have.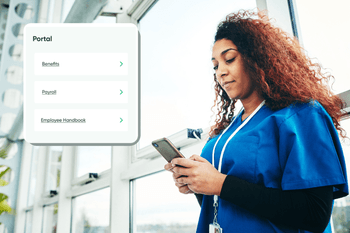 4. Creates a Home Base for Employee Support
Your employee self-service portal is the home base for your team. The information is always available at any time in an ESS system. This gives team members a sense that the HR team is always available while still empowering them to independently find the information they need.
One of the great benefits of employee self-service is that you can distribute key information and manage employee communications and engagement—all using one system. This 24/7 access helps employees feel supported and increases trust in your organization.
5. Builds a Foundation for Team Connection
Employee self-service technology can help employees feel more connected to their broader company. So make the most of your ESS portal! Build some fun into it—get creative with how you use your self-service system to delight your employees and build a better sense of culture.
Use the portal to grow your culture by highlighting the annual team basketball tournament and your division's employee of the month. Send out birthday announcements, promote team or customer wins, and share monthly goals to encourage a sense of connection and camaraderie.
Another great benefit of employee self-service is the simple way you can use it to boost morale. Use the employee self-service features as a way to get the word out about company information and policy documents that connect your team to your company's mission and build a sense of increased connection within your organization.
What Are The Benefits of Employee Self-Service Technology For Your Managers?
While there are a ton of benefits of employee self-service for your team, the benefits of ESS for management are rooted in saving time, workforce-related costs, and increased connection with their teams. Your managers (and the rest of your internal team) will be thankful for the added time back into their busy schedules.
1. Eliminates Manual Workflows and Tedious Busy Work
Having an ESS system takes a lot of load off of your managers. Employees are responsible for their own data and personal information—meaning they are responsible for keeping it up-to-date and accurate. Your team members can also tackle other time-consuming tasks that used to be on the manager's plate as a manual to-do.
Switching to a self-service system saves your managers time they would have spent trying to juggle all of the HR-related tasks and administrative processes. This shifts the responsibility equally throughout the team. A little relief in mental load can go a long way in increasing your manager's overall productivity.
2. Creates One System of Record for Internal Teams
Whether it be your HR department, legal, safety, compliance, or team managers, many areas in the business have forms and policies for employees to agree to, sign off on, and fill out. Employee self-service technology keeps everything in one place. It gives internal stakeholders seamless access to each team member's submission through the self-service platform.
Your compliance and HR leaders will appreciate the efficiency of the process here. Not only is the company saving on staff hours (since they're processing less paperwork and forms), but they are also saving tons of manual paperwork and printing. With employee self-service technology, everything is accessed and saved digitally.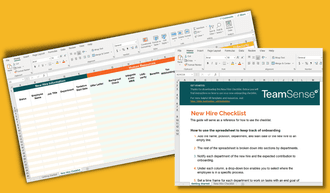 Grab Your Free New Hire Onboarding Checklist
Not ready for a full-fledged ESS system to help with onboarding? This New Hire Onboarding Checklist covers tasks for HR, Security, IT & Direct leads.
3. Shifts Manager Focus to Employee Development
When managers spend their time and brain space filling out forms and managing checklists, it leaves little room for establishing relationships with their team and focusing on employee development. That type of distraction won't scale well when it comes to the ongoing career development of your team.
An employee self-service solution can help managers focus on employee development by letting the tool take care of the other processes. This way, managers can spend their energy focusing on developing their team's skills and career growth. At the same time, managers can also encourage employees to pursue growth opportunities by browsing the ESS portal for training, workshops, and open roles they can advance to.
4. Delivers Insights Directly From Your Team
The best part about an employee self-service technology is how easily it can connect managers with employee insights. Organizations can choose to add open feedback options that give staff easy access to things like employee feedback surveys, harassment reporting, and employee of the month suggestions.
Getting feedback to improve the employee experience can be hard, especially with a frontline workforce, so being able to gather insights directly from your team is a huge benefit of ESS. This essential feedback is a gift to any company open to continual improvement.
5. Access the System From Anywhere
One of the most significant benefits of employee self-service portals is that they're accessible from anywhere. All your staff needs is an internet-capable device, and they are good to go to access company information anytime they need it.
Are There Disadvantages of Employee Self-Service?
Just like any other tool, an ESS system might not be the right fit for a specific company. Here are a few disadvantages of employee self-service that a company might discover along the way.
The employee can't easily find the information they're looking for

Communication gaps

Trouble using the technology

The system is unable to answer the question
Invest in Your Team With Mobile Employee Self-Service Technology
Buy-in from your team is essential for any new company tool to succeed. And with a frontline workforce, you want to keep it easy and make it useful. It's time to make your employee self-service portal an extension of your company's culture, while being super simple to use.
An employee self-service text-based portal gives employees a way to access the portal through their phones—making sure your entire workforce can remain connected anytime. Empower your team with the benefits of employee self-service from their mobile device—no app needed. See how TeamSense stacks up against its competitors!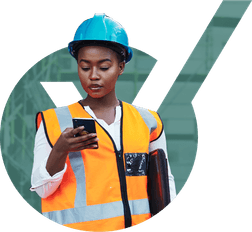 Help Your Hourly Employees Thrive
TeamSense empowers your team through engagement, keeps everyone in the loop with attendance, and saves you time (and dollar signs) while boosting productivity along the way.
Nope, you don't have to have the latest tech to get it done. All you need is text.
*By filling out the form you agree to TeamSense's
Privacy Policy
. Your information is never resold.
Related Content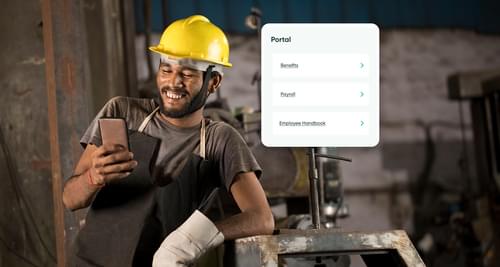 Solutions
Employee Portal
Make employee resources available to every team member 24/7. No more waiting on HR for an answer.
Learn More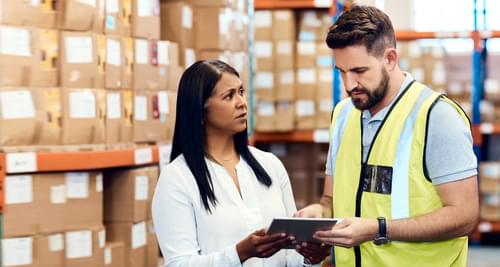 Blog
How to Write an Employee Attendance Write Up
Need help writing an attendance write-up? With our step-by-step guide and practical examples, you won't have any questions about what to include and how to format it. Plus, discover proactive tips to foster a company culture that inspires punctuality and regular attendance.

Sheila Stafford
CEO, TeamSense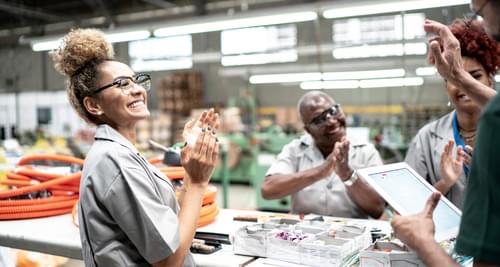 Blog
The Impact of Absenteeism on Manufacturing Productivity
Productivity - it's a key component in every industry, but some may argue that it's THE center of everything when it comes to manufacturing. But what happens when you can't get employees in the door? Let's take a look!

Sheila Stafford
CEO, TeamSense