General Questions
TeamSense is one of the best internal communications tools for deskless workforces. Its a simple and fully customizable mobile platform that lets you get fast and accurate updates without the need for employee communication apps. It is the right solution for companies that want to establish an effective internal communication strategy. Try the TeamSense team communication tools and collaboration features today.

We support organizations of any kind, but we are purpose-built for organizations with large hourly workforces.

We currently serve organizations in the US, Canada, and Mexico.

TeamSense uses technology similar to two-factor authentication to send information to known devices.

Over 99% of our users choose to interact with us via text, but for that <1%, we also offer the same service via email delivery.

Of course! TeamSense enables users to choose their preferred language.

Our current offering includes English, Spanish, and Vietnamese, but we can support other languages as well - just ask!

Yes, internet access is required to access the portal. Data and messaging rates may apply.

Absolutely! All of the TeamSense forms are fully customizable to match your company policy and needs.

Yes. The TeamSense product can seamlessly integrate with existing applicant tracking systems, talent acquisition software, absence management tools, company web portal software, and other recruitment marketing tools. This online recruiting software supports recruiters and hiring teams to manage job seeker and applicant data, augment their existing recruitment process, promote positive candidate experience, and facilitate a smooth talent acquisition process through better HR tech.

Using the TeamSense text recruiting software along with your other talent acquisition tools means your company will have an easier time hiring the best talent.

The TeamSense HR recruiting software can be used by recruiters and hiring teams to fill any open job positions! Most people already use text messaging every day. Adding text messages to your recruitment tools gives job seekers easy access to apply.
Onboarding
Employee information can be updated in three ways. First via our admin dashboard, second via our support team, or lastly via integration with your systems.

TeamSense has integrations built for Ceridian. We are underway on other HRIS and Payroll system integrations. Reach out and we can let you know where we are with the others.
Privacy and Security
We believe security is non-negotiable. All data input into TeamSense is encrypted (in transit and at rest), and stored in a secure cloud database. Our solution adheres to strict data security standards and our internal engineering processes follow industry-standard best practices. We're more than happy to answer any specific questions you may have.

TeamSense's inception was health screening. We take data privacy and security seriously. We know that you trust us with critical communication with your workforce and that may include personal and health information.

TeamSense complies with relevant national regulatory bodies within the United States, such as the Americans with Disabilities Act (ADA). Any employee's health information must be stored confidentially and separately from personnel files - which is easily enabled through TeamSense.

We use industry-standard security and have strict controls on access to information both from within TeamSense and for employees and workers using TeamSense. See our security statement for more details or contact us if you would like to know more.
Access & Authentication
TeamSense uses technology similar to two-factor authentication.

TeamSense connects Employee ID and name to validate your team members. Once we connect the Employee ID to a phone number (or email) we return requests to the info we have on file.

Our method is convenient for hourly employees or those without access to a company email address or computer.

The biggest difference between TeamSense attendance and ADP is that we operate without an app. Our customers join TeamSense due to frustration with solutions that require an app.

Many employees in manufacturing (compared to retail or food service) refuse to download a company app on their personal phones. The number one reason is fear of being "tracked." Their fear is not off base; ADP tracks employees as a "feature" of their mobile app.
Integrations
Pass attendance information right into your HR system for payroll processing.

TeamSense is working on integrations with Ceridian, ADP, Ulti-pro and Dimensions.
Employee Call-In
The best part about using the employee call-out system with TeamSense is that we do not require a mobile app download or login to replace your employee call-off hotline. The TeamSense call-out system validates your team members' identities by asking for their names and Employee ID and linking them to their phone numbers for future logins. Employees often push back on using an app to track their call-outs. Instead, TeamSense allows for all the functions of an employee call-off hotline without having one.

We made it possible for frontline employees to request time off, whether day or night, work hours or not. This is convenient for hourly employees or those without easy access to a company email or computer. Their shift supervisor can also get an immediate notification through texts on their mobile phone for instant employee call-outs and time-off requests.

All employee call-out requests passing through the employee call-out hotline are logged in complete detail. HR staff members who administer workforce management solutions can see details of employee availability in the absence management tracking dashboard. This is easily accessible from a single-time and automated employee call-off system to save time.

Absence management software lets you track employee attendance and track time while keeping everyone in the loop. An online absence management software is key to replacing outdated voicemails with a more reliable way to record attendance and absence tracking.

Absence management software simplifies the end-to-end process of frontline employees taking paid or unpaid time off. An online absence management software enables easy reporting of employee absences and communicates those absences to managers and the HR team.

Other great attendance app software features of an employee absence tracker include: integration with HR functions like payroll software, hiring platforms, time tracking software, and HRIS syncing with employee records for absence requests (making it easier to track working hours and submit timesheets).

Employee self-service attendance tracking systems make it easy for an HR team to monitor employee time off, sick leave, vacation requests, and unexpected absences like a last-minute emergency. The time and attendance tracking information gathered can be used to make valuable information reports and insights that help companies track employee attendance, improve workforce management, and stay on top of PTO balances.


That's what makes TeamSense a top attendance tracking software adaptable to the remote or mobile workforce. No more manual attendance tracking, untrusted mobile apps, or complicated calendar management. Onboard the easiest user friendly absence tracker and get better employee management. You'll always know how many sick days, how many vacation days and personal days remaining remaining across the team. The dashboard summarizes critical information in easy to access reports better than any Excel spreadsheet. Key features include absence trackers for all employees PTO requests and unpaid time, monitoring personal days and absence types, text-based access from mobile phones, and helping you stay compliant.

With TeamSense, employees text our system to call out via a quick survey to understand the proper reason code. No app, no login, no tracking.

Once an employee submits the absence, the system immediately notifies the manager via text and/or email of the submission, including the reason code to be leveraged for entry into ADP.

An employee attendance management system offers three main advantages. One, a time and attendance system quickly informs HR and management if certain employees are unavailable for work. Second, it reduces employee disputes caused by language barriers. And finally, the best attendance tracking software helps with automated features that improves efficiency and overall employee productivity in the workplace as an easy way to track attendance.

The best attendance app makes life a lot easier for employees to track time and attendance status too. Employees can connect to an absence management system via text to request vacation days and sick leave, track attendance, or explain unplanned absences. An attendance app a great absence tracking solution for reducing communication problems between the HR team and company employees, especially when language barriers are present. This improves performance management the quick and easy way.

After an employee sends an absence response, HR personnel can keep track of employee attendance more conveniently and make sure that company employees stick to the attendance policies.

That means if you work in human resources, you can spend less time dealing with absence management, tracking unnecessary absences, filtering leave requests, managing attendance data, and spotting attendance trends. Instead, the HR team can spend more time on other projects. Imagine what your HR team can do with all that free time! Take it from us—it's much easier to generate time and absence reports and manage work hours with an accurate attendance tracker that uses text. TeamSense is a better time tracking tool than any other time tracking app or time clock software.

Yes. The TeamSense absence management software needs online access through a mobile device for tracking attendance and collecting team member responses. For employees, all they need is a mobile phone with a data plan or a Wi-Fi connection to report their time-off, absence, personal time, or sick leave. No attendance app download is required for tracking attendance or handling employee absences. TeamSense is optimized to make it easy to report employees attendance online through a connected mobile device. You and your employees will always have accurate attendance records with TeamSense. This includes to other advanced and basic features built into the cloud based software making it your complete workforce management solution for better employee performance and team productivity - not just overtime tracking or employee attendance software. Employees can access the browser version over text on the go.

You can set permissions for your team bases on roles:

Super Admin- Access to all employees at all sites.
Site Admin - Access to all employees at assigned site
Manager- Access to employee status and team roster.
Employee- Access to personal history

Not yet, we are working on it. Today, you can create unique groups and send a mass notification to that group requesting coverage.
Employee Portal
An employee portal is a way for employees to access the resources they need from their employers. Employee portals are usually set up by HR and are typically available through a desktop platform.

Employees access the portal through text messaging on their phones. No company Intranet needed, no URL to bookmark.

Employees simply text a keyword describing the resource they need and a link is immediately returned to them via SMS messaging.

Employees access the portal through text messaging on their phones. No company Intranet needed, no URL to bookmark.

Employees simply text 'TeamSense' and they are returned a portal with commonly requested resources.

The most common links in the portal are:

Payroll login
Benefits login
Job Openings
Company News
Events

Admins log in to their TeamSense dashboard and head to the "Portal" tab to update links.

Yes, internet access is required to access the portal. Data and messaging rates may apply.

TeamSense uses Employee ID and name to validate your team members. Once we connect the Employee ID to a phone number we return requests to the number we have on file.

Our method is convenient for hourly employees or those without easy access to a company email address or computer.
Employee Communications
TeamSense has mass notification capability. You can send or schedule messages to your entire company or a small subset of the team in a matter of seconds.

No. Our messages today are broadcast style, responses are not returned or retained.

TeamSense can be used to digitize your employee suggestion box, automate safety incidence reporting, conduct exit surveys, and collect new hire applications..... and more. The applicability of the technology is endless!
COVID-19 Symptom Screening
TeamSense can support on-site screening through our Screener functionality, which enables an authorized screener to input data into the system, but prevents them from accessing any data history. This limited access protects the confidentiality of your employees' health information.

TeamSense is not an app. It cannot automatically detect proximity. It can however help with contact tracing using the built-in groups' functionality.

No, TeamSense cannot verify vaccination status. However, we can collect and report employee self-attestation of vaccination status.

Yes! TeamSense has visitor screening functionality. You can even ask visitors different screening questions. Their responses are stored for 90 days and then automatically destroyed unless you request to retain them for contact tracing.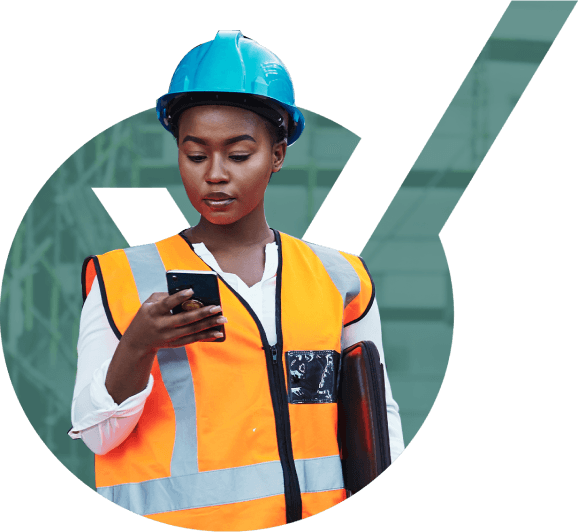 App-free digital tools that work for everyone
Connect your admins, managers, and hourly team through text