TeamSense is the software solution for attendance tracking in the manufacturing industry. We offer a suite of tools to help enterprises connect and communicate with 100% of their hourly workforce via text message.

Our flagship product, Attendance, was designed to serve two purposes: automate call-off management and establish a digital connection with employees through text.

By easing employees into text-based communication, TeamSense customers are able to use the channel in various ways to deepen the connection and reach the entire workforce for the first time ever.

TeamSense was purpose-built for hourly employees, HR teams, and site-level supervisors at large manufacturing organizations, but other industries like warehousing and logistics have also been known to fall in love with our product. 💚

We don't want to brag 😉 but some of our customers include HelloFresh, Anheuser-Busch, DHL, and Magna International.

Today, we serve organizations with sites in the United States, Canada, and Mexico.

We'd love to help you solve your employee attendance and communication challenges. Start a conversation with us today!

TeamSense was founded by former manufacturing executives, plus multiple members of the team have direct experience working on factory floors. Our experience has given us a direct line of sight into the culture, workflows, and operating procedures of manufacturing organizations.

But that's not all. We apply a continuous improvement mindset, making regular site visits to our customers' facilities to hear directly from hourly employees and their supervisors.


Many of our customers achieve a positive ROI within 3 months of implementing TeamSense. One multinational 3PL reduced absenteeism rates by 39% in just 60 days and most customers save an average of 3,360 hours per 1,000 employees per year from reducing manual processes and data entry.

TeamSense has also helped our customers achieve strategic goals like improving employee satisfaction and engagement.




That's right! Hourly workforces often don't have corporate email addresses and many of them really dislike having to install work-related apps on their phone. But everyone can text. In fact, 70% of employees prefer it to other forms of communication.

So that's what we use—text messages.

It's not magic, just thoughtful design! See how it works on our Attendance product page.

In addition to text, we're able to support email for all use cases, plus the ability to use a phone line with interactive voice response (IVR) for Attendance. But the majority of TeamSense users choose to text.

¡Sí!

We understand the diverse number of languages spoken in a single facility, so TeamSense was built to support language localization for non-native English speakers.

Today, we offer translation capabilities for over a dozen languages, but are always adding more to that list based on customer needs.

Yes, employees need either a data plan or internet connection to use TeamSense. But no need to worry—these days, an overwhelming majority of cell phones in circulation are smartphones.

Traditional call-in via a phone line is always an option too.


Absolutely! We offer integrations to leading time and attendance, HR, and payroll software.

We add new integrations regularly, so let us know if you don't see the one you need.


TeamSense was built with security and privacy as top priorities. It's not only important to those leading IT security at your organization, but also to your hourly employees, who have been vocal against being "tracked" by app-based solutions.

We take care to uphold the highest standards and latest protocols when it comes to safeguarding your data.

To learn more about our stance on security, visit our Security page.

Yes! TeamSense was founded by Sheila Stafford and Alison Teegarden, who both hold leadership positions at the company as CEO and COO, respectively. Prior to TeamSense, Sheila held executive positions at Fortive, Whirlpool, and General Motors, and Alison held positions at Fortive and The Boston Consulting Group.


The best way to get started with TeamSense is to talk to an expert. You'll have the chance to discuss your organization's unique challenges and goals with TeamSense, plus get a chance to see our product in action and see if we'd be a good fit.

After that, it's super easy to get up-and-running! One TeamSense customer deployed TeamSense to 4,500 hourly employees in 48 hours.

We've heard feedback from customers that our product is simple, intuitive, and clear, but if you ever need additional help, we provide learning materials as well as access to our amazing Support team!

Managers love TeamSense and they're excited about it. They used to have to listen to tons of voicemails, now they get quick notification of absence to both text and email. It's easy to use, and they have all the information they need.


Amanda Fowler
HR Generalist, Saint-Gobain (Akron division)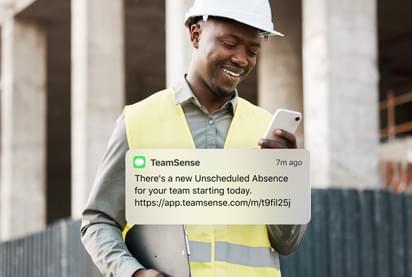 How Much Is Managing Absenteeism Costing You?
Our ROI calculator can help you see how much managing absenteeism is truly draining your company. Are you ready to uncover the hidden financial loss?