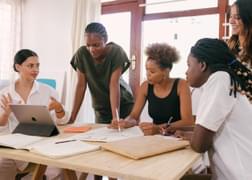 Jan 21, 2021 | By TeamSense
How to Enhance Communication with your Hourly Workforce
Engaging employees and having a level of transparency within your organization will take you a lot further than you would think. Learn more about making things more manageable, more efficient, and seamless for your hourly teams.

Sheila Stafford
CEO, TeamSense
We know every challenge contains an opportunity. And, since the past year has been so generous with challenges, it was only fair that an opportunity or two arose from the dust as well.
Like how to enhance how organizations like yours communicate with, and engage, the 'deskless' part of your workforce. Specifically, your production and maintenance teams, your field services reps, your warehouse team, pretty much all of those important members that do not log into a computer for work each day.
With up to 80% of the global workforce meeting this category, there's a massive need for enhancing communication to improve efficiency, engagement, and reduce turnover.

The best way to think about how to communicate with employees is to remember the acronym ACT (Accessibility, Clear & Concise, and Timing)
Accessibility: You must communicate in a method that is accessible. Both in terms of technology, as well as language. These employees represent a wide range of backgrounds, and the best way to reach them is with the technology and language they are most comfortable with.
Clear & Concise: You want to ensure that your team remains focused on the task at hand. You will have a limited amount of mind space, be sure your message is understood.
Timing: If you have workers across different shifts, be mindful of when you send your communication at the start of the day, it could be the middle of the night for some of your second shift team members. Be mindful of the timing, a good tool will allow you to schedule communications such that they are sent at a convenient time for everyone.

Mobile Communication- It's More than Text Messages
The most common way to communicate initially is with text messages. But having management texting employees using personal devices and their mobile phone plans is a temporary solution at best. It does not provide a viable, long-term communication system because of the lack of security, difficulty controlling the flow of information, and inability to manage access (i.e. former employees may still receive confidential details).
Using a platform developed for organizations to manage all their communications is the most reliable and trustworthy approach. You can still send text messages, but it is managed within the company parameters, providing security and accountability for all parties.

One of the most noticeable advantages is employees' willingness to communicate through a text-based program rather than call in. This method lowers the communication barrier and improves the timeliness of responses for everything from 'calling in' sick/delayed to providing updates that are accessed promptly.
Connecting with your workforce on their own devices, wherever they are, using practical and integrated company-wide procedures empowers engagement opportunities that can lead to a more loyal, invested, and educated workforce.

The Power of Regular Evaluations & 'Pulse Checks'

Evaluations are not about evaluating employees —it's about assessing communications. With the lack of regular face-to-face connections with your workforce, it can be tricky to keep a pulse on how your team is doing or the progress of your goals.

Do your employees feel connected? Are they able to quickly and easily access the information they need through the app? Can they get in contact with a supervisor/co-worker when required? The last thing you want is to have a communication strategy that's getting in the way of good communications!

Learn how to engage your workforce with TeamSense
TeamSense's COVID-19 symptom survey has been in action since the spring of 2020. During this time, we've seen verification across industries that this technology is improving communications for hourly workforces everywhere. We have leveraged the platform to manage attendance and communication with large hourly teams and still, there is plenty of opportunities to innovate further.

Engaging employees and having a level of transparency within your organization will take you a lot further than you would think. Being able to meet your team where they already are (i.e. on their phones) will be a key trend going forward into 2021. Making things more manageable, more efficient, and seamless will be crucial for organizations with hourly teams.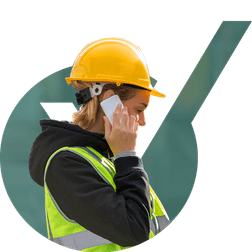 Help Your Hourly Employees Thrive
TeamSense empowers your team through engagement, keeps everyone in the loop with attendance, and saves you time (and dollar signs) while boosting productivity along the way.
Nope, you don't have to have the latest tech to get it done. All you need is text.
Related Content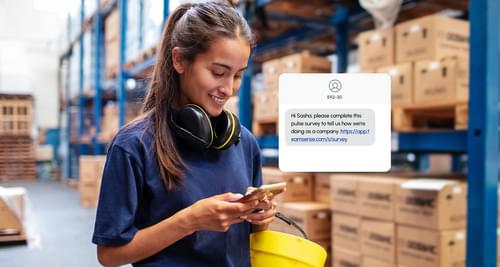 Solutions
Employee Communication
Use mass text messaging to keep teams, locations, and even your entire company in the loop.
Learn More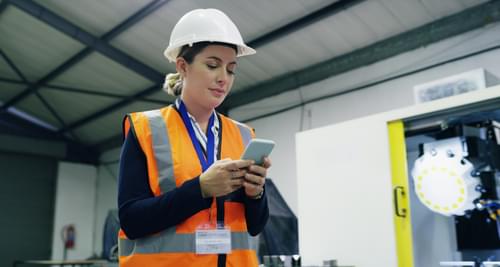 Blog
How To Communicate With Hourly Employees Without Access To Email
Explore how to effectively communicate with hourly manufacturing employees without company emails, using text, apps, and other methods for improved engagement & productivity.

Sheila Stafford
CEO, TeamSense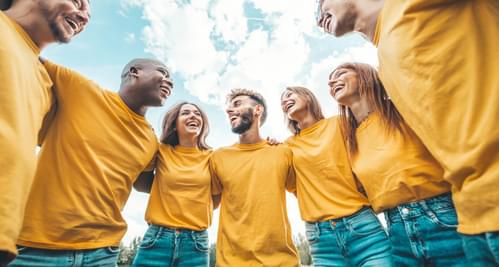 Blog
10 Employee Engagement Activities to Try Now
Employee engagement should be a priority at your company. Here are 10 ways to reconnect with your team in a meaningful way.

Sheila Stafford
CEO, TeamSense