Leave Your Employee Call-Off Hotline in The Past Where It Belongs

Leave Your Employee Call-Off Hotline in The Past Where It Belongs

With all the tech advances these days, there's no reason to be stuck using a dated employee call-out system. Keeping track of who is coming in and who has called out for the day should be simple.

Manage every employee call-out in one place—from planned family vacations at Yosemite to unplanned flu bugs (and everything in between)—with a simple call-off system using text.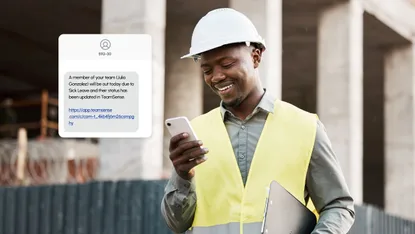 Employee Call-Off Platform Built for Large, Hourly Teams
Take The Stress Out of Tracking Employee Call-Outs
You only have 24 hours in a day, and your time is valuable. Don't spend half your day keeping up with employee call-outs. Ditch the employee call-off hotline and stop chasing down voicemail messages for good. Using a text-based employee call-off system increases productivity and is a much more effective use of your time.
Employees notify you of their status through text.
Managers get the notification instantly and can plan out the day accordingly.
No more employee call-off hotlines to manage. No corporate company email logins to remember. No app to download. No more headaches.
Find Out How 30 Minutes Can Save You 120 Hours A Year:
Book A Demo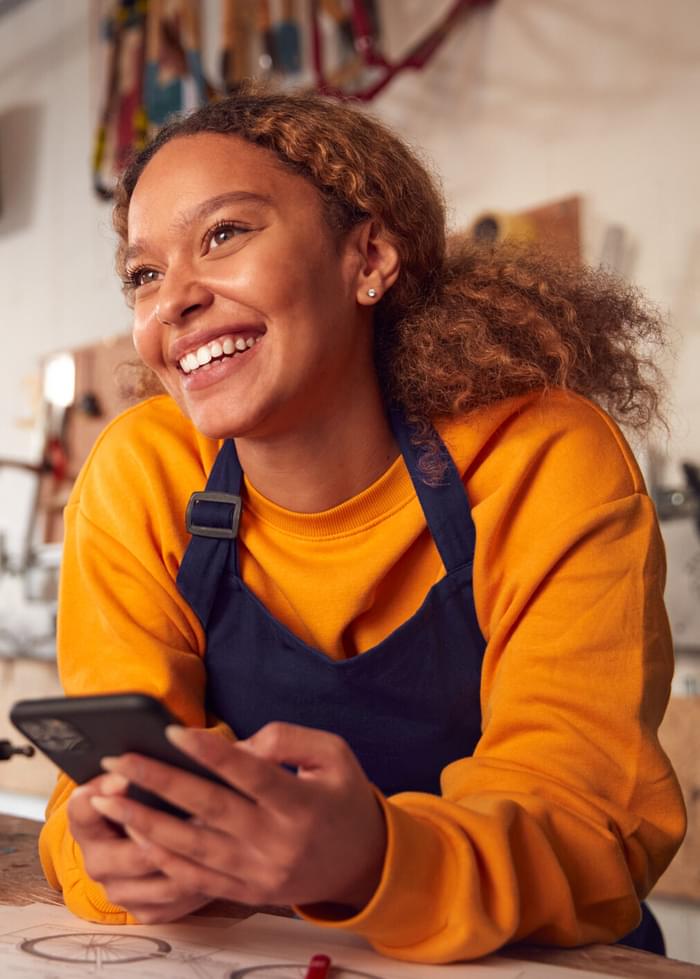 Finally, an Employee Call-Off System Built For People
People are the not-so-secret sauce that makes your company thrive. Using a text-based employee call-off system makes it easier to connect with your team.
TeamSense lets you:
Get your team onboarded to the portal fast—all you need is names and employee ids.
Reach your team where they already are using a text-based employee call-out system to track their status for the day.
Prioritize communication with your employees, managers, and HR staff.
No more hoops to jump through—TeamSense lets your employees call off using text in just a few steps.
Start a Conversation with an Expert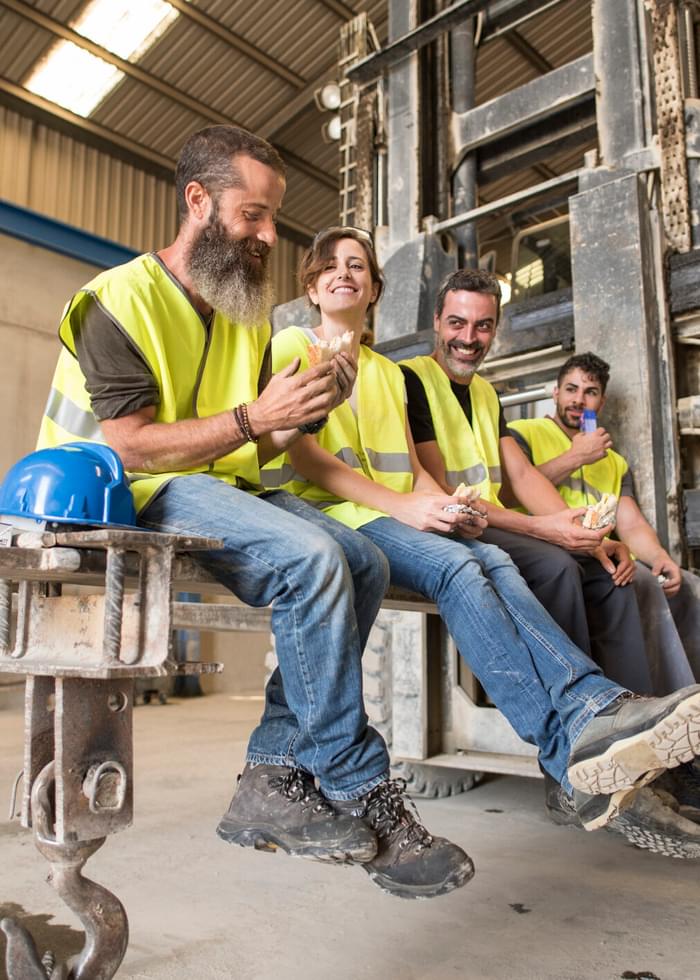 No More Listening to the Employee Call-Off Hotline—Get Hours Back in Your Day
There's never enough time in the day. And that's especially true if part of your job includes tracking hourly employee call-outs. Save your managers up to 2 hours per week¹ spent listening to the employee call-out service.
Our text-based employee call-out line helps Human Resources manage their hourly talent easily, even in large teams!
Limit time spent listening to the employee call-off hotline.
Get notifications in real-time about your team members who are calling out for the day.
Improve shift planning and know when your employees will be out.
Get the information you need with simple, multiple-choice options for employees to select via text.
Let employees choose their language preferences.
¹ Based on a manufacturing company using traditional call-ins with an employee to manager ratio of 120:1
See It In Action!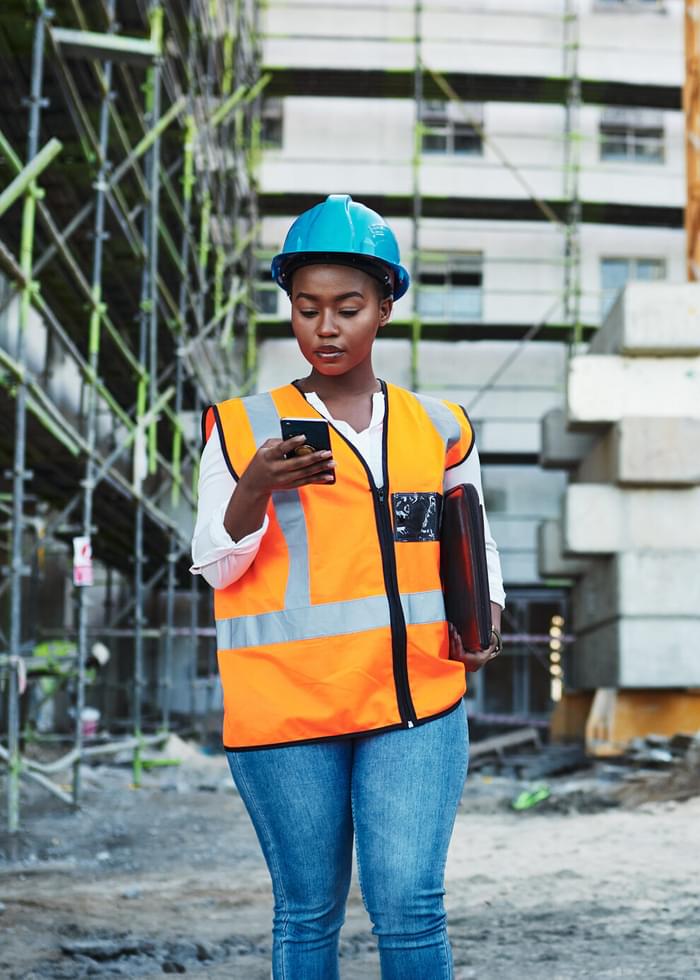 Employees Call Out Through Text, Managers Are Instantly In The Loop
No, you're not dreaming—you really can ditch your call-off answering service. Modernize your call-out system with a text-based way to keep track of call-outs.
Staying on top of your employee call-off system through text is easier than it sounds. Here's how the process works:
Employees text TeamSense a keyword like "Absent" when they can't make it in.
Notifications are sent instantly to managers and team leads.
Managers are aware of the employee call-out and can easily communicate with others to coordinate shift replacements.
Keep track of all the data in a web-based portal built for hourly workers.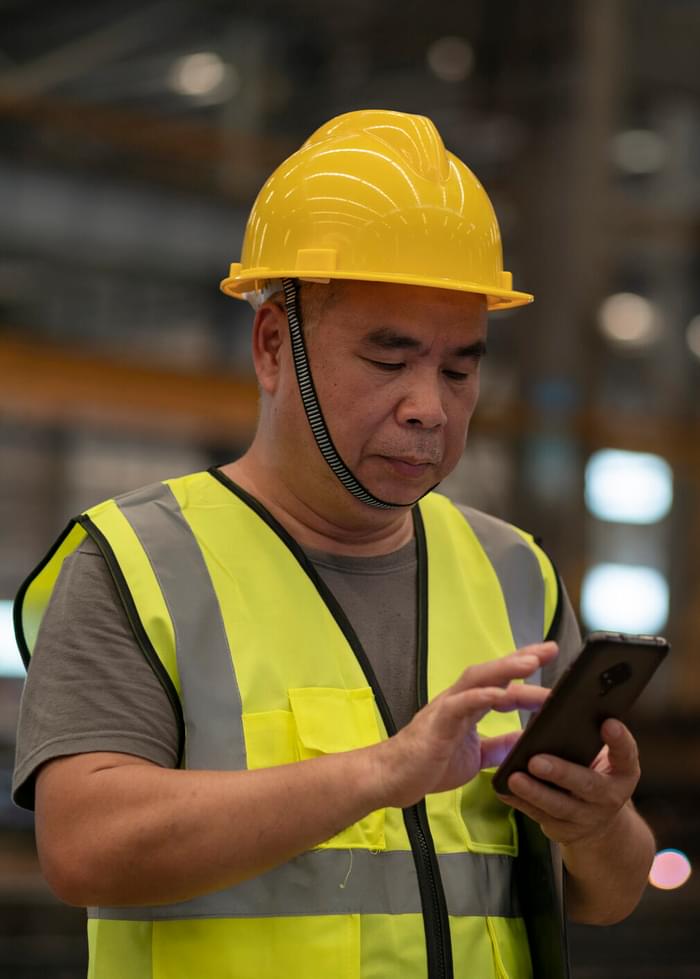 TeamSense Integrations
TeamSense integrates with most HRIS providers. Integrations can be set up as a one-way push to TeamSense or a two-way sync.
Sync employee contact information.
Automatically transfer call-off status reason codes into the employee call-off system.
Enable employees to check points or vacation/PTO balances.
Eliminate time wasted in manual data entry and reduce human error in transferring data.
Rely on a solid documentation process for all call-off tracking, new additions, and terminations.
Gain peace of mind knowing employee records are always up-to-date.
Don't see your HRIS provider here? Just ask us. We'll do what we can to work with them.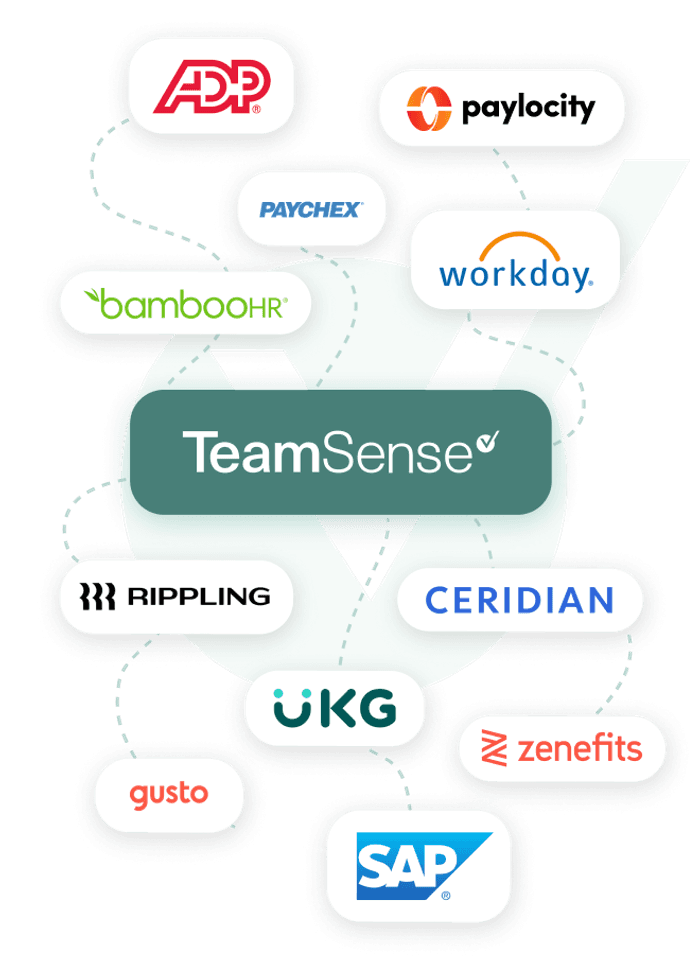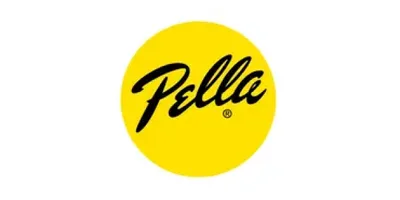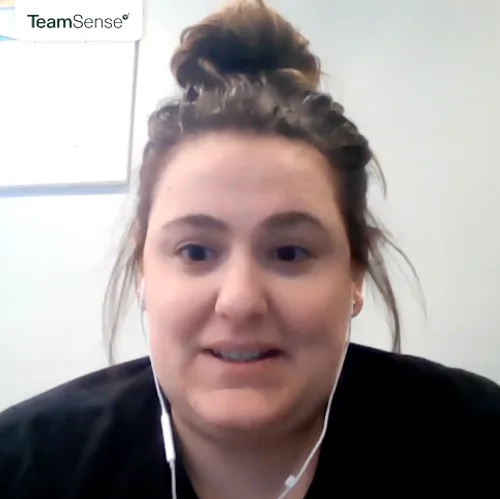 TeamSense Text-Based Employee Call-Out Tracker FAQs
An employee call-out hotline is a phone number that employees dial to request time off, sick leave, or other unplanned call-off. Many companies are replacing their traditional employee call-in service with automated online services to enhance productivity and save time with absence management. Using this service for employee call-out software allows for better frontline employee self-service and integrates with employee records. Because human error is inevitable with human operators, many companies are replacing the traditional hotline with automated, online call-off services, like a text-based call out system.

The employee call-out line is usually answered by a human operator who gathers all the necessary information to record the reason for the call-off and document the employee's time off. Managing employee call-offs can take up a lot of your time using a traditional call-out hotline. It's better to track absent employees with a straightforward method backed by a good call in policy so everything is properly documented for record keeping should there be attendance violations or a rare event requiring substantial evidence.

A text-based call-out software can get the job done quickly—better than an employee call-off hotline. Employee call-out software helps ensure correct reporting of employee time-off requests. It provides real-time alerts, allows for custom leave types, and provides automated information reports for time off.

This modern employee call-off system is more transparent and efficient than traditional human-operated answering services or employee call-off hotlines for tracking call-outs. On top of that, it reduces employee disputes with the HR department and management team because there are no questions about if a team member called the employee call-off hotline or not. The documentation is there. This helps employees by creating an accurate paper trail, reducing the risk of a wrongful termination lawsuit, and does not add the cost of a call center for call-outs from employees. Using an easy and secure web portal like TeamSense will replace the employee call-off hotline as both your employee status tracker and employee call-out software.

The best part about using the employee call-out system with TeamSense is that we do not require a mobile app download or login to replace your employee call-off hotline. The TeamSense call-out system validates your team members' identities by asking for their names and Employee ID and linking them to their phone numbers for future logins. Employees often push back on using an app to track their call-outs. Instead, TeamSense allows for all the functions of an employee call-off hotline without having one.

We made it possible for frontline employees to request time off, whether day or night, work hours or not. This is convenient for hourly employees or those without easy access to a company email or computer. Their shift supervisor can also get an immediate notification through texts on their mobile phone for instant employee call-outs and time-off requests.

All employee call-out requests passing through the employee call-out hotline are logged in complete detail. HR staff members who administer workforce management solutions can see details of employee availability in the absence management tracking dashboard. This is easily accessible from a single-time and automated employee call-off system to save time.

Yes. The TeamSense call-off software needs online access through a mobile device for tracking and collecting team member responses. For employees, all they need is a mobile phone with a data plan or a Wi-Fi connection to report their time-off or sick leave. No app download is required for handling employee call-offs. TeamSense is optimized to make it easy to report employee call-offs through a connected mobile device so you always know about absent or tardy employees. Get rid of the outdated employee absence reporting line and employee call off service. Track each employee's absence with an automated attendance hotline, text-based on screen instructions, and accurate documentation.

No. TeamSense is a self-service, automated employee call-off software. Communication about employee shift scheduling and time tracking is done through text messages. The TeamSense employee call-out software does not utilize an answering service with live operators. However, there are employee call-off hotlines provided. Our Interactive Voice Response (IVR) works very well and can be used as a backup way to report employee call-offs.

Despite not having an answering service to record employee call-outs, the TeamSense automated employee call-off software is a more effective tool to track time for the employee scheduling process.

This automated employee call-off software supports multiple languages and translation services. Our text-based employee call-out system will automatically provide translations for employees who speak languages other than English. This is more inclusive and efficient than an employee call-off hotline to track employees attendance across the entire team.

HR teams can use the data gathered by the TeamSense employee call-out system to track employee call-outs and generate accurate time reports in place of relying on Excel timesheets for employee call-out data. These great features make gathering time, monitoring data, tracking personal days and vacation days, and managing employee time-off convenient for company managers and frontline employees. Replace your call out number, daily administrative tasks, chasing phone calls and voicemails, and following up on call center needs. Get ahead of unexpected absences, tardy employees, finding local agents to fill shifts, and conflict resolution with the appropriate protocol and managerial purposes all built into TeamSense.

TeamSense is the easy-to-use employee call-out software built for the modern workforce to track employee attendance and find your most reliable employees to get ahead of employee absences. It makes frontline management of employee call-outs a breeze to submit leave requests, coordinate the team calendar, replace your old employee call-off hotline, and handle leave management. Make each time an employee calls out a breeze with TeamSense dedicated dedicated phone number and reduce lost productivity with time stamped records so you can plan ahead

With TeamSense, employees text our system to call out via a quick survey to understand the proper reason code. No app, no login, no tracking.

Once an employee submits the absence, the system immediately notifies the manager via text and/or email of the submission, including the reason code to be leveraged for entry into ADP.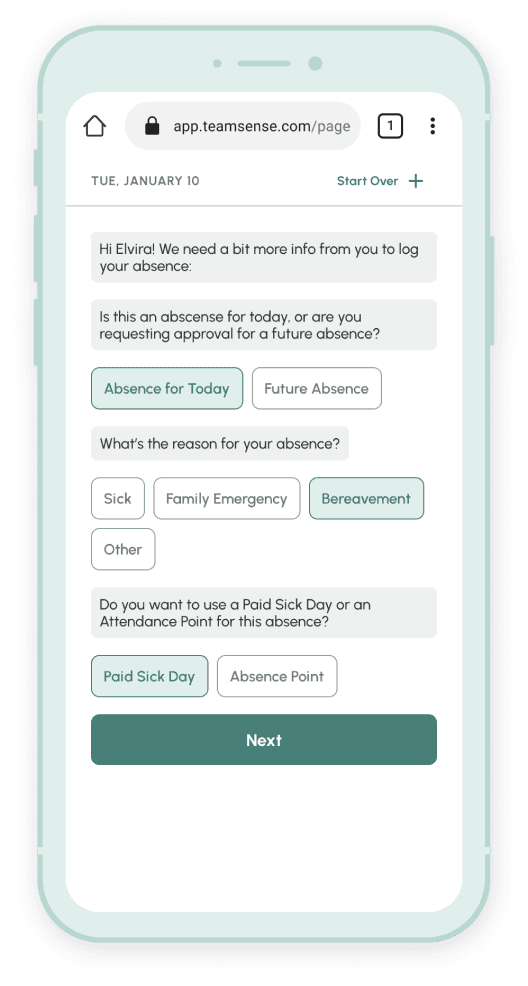 TeamSense: A Modern Employee Call-Off System Hourly Workers Need
The Employee Call-Off System Built To Support Your Biggest Asset—Your People
Learn more about building a modern employee call-off system and growing a more connected workplace through text with TeamSense.
Product Overview PDF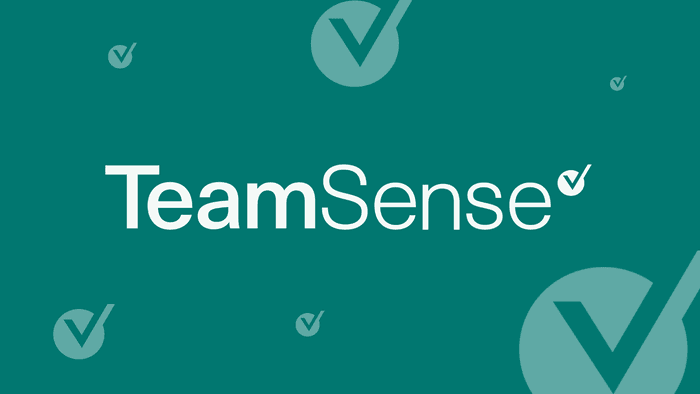 The Latest Insights from the TeamSense Blog