"TeamSense killed a couple of birds with the same stone... We had multiple programs in place that were either replaced or improved upon with TeamSense."

Meal-kit delivery company HelloFresh is on a mission to "change the way people eat forever."
They've achieved explosive growth across 14 countries, including the acquisitions of global brands like Chef's Plate, YouFoodz, and Factor75, and expansion into the US, where they are the #1 meal-kit delivery company.
The exciting growth led to HR and people management challenges that go hand-in-hand with supporting large, fast-paced teams of hourly employees.
HelloFresh partnered with TeamSense to create better team member experiences by using text messages to replace time-consuming tasks, starting with absence tracking.

Tracking Attendance was a Manual & Time-Consuming Process Before HelloFresh Partnered with TeamSense
With the recent growth and expansion at HelloFresh, managing people and processes had become time-consuming and inefficient.
Admins Spent 3-4 Hours Per Day Listening to Voicemails
Team administrators, managers, and HR professionals split the absence management responsibility because it was a substantial daily undertaking.
In a distribution center with over 4,000 employees, some Managers could spend 3-4 hours a day listening to over 300 voicemails.

HelloFresh Transformed How they Managed Hourly Employee Attendance Through Text with TeamSense
Attendance Data Is Easier to Manage
The new text-in process is easier for employees to use and reflects the exact information the employee entered.
HelloFresh is saving money since HR no longer has to work extra hours to listen to voicemails.
Overtime Shifts Are Picked Up Instantly
The ability to coordinate overtime through text has been a tremendous asset for the team. Managers and administrators message their team to sign up for shifts when the volume is high.
Managers Have Insight Into Day-to-Day Planning
With the new process, managers are aware of what's going on with their shift. Managers have seen an estimated 30%-50% time reduction in the amount of time previously spent managing attendance, finding shift replacements, and getting employees to sign up for OT.
"A really big bonus with TeamSense... Being able to incorporate the operations more in [managers'] day-to-day planning." - Amber Baley-Johnson, HelloFresh HR.
Outdated Legacy Systems Have Been Eliminated
HelloFresh has eliminated two legacy employee communication and attendance systems since TeamSense had the functionality that they were looking for already baked into the product.
"TeamSense killed a couple of birds with the same stone... We had multiple programs in place that were either replaced or improved upon with TeamSense." - HelloFresh Team Member
Save 120+ Hours A Year Like HelloFresh With TeamSense
TeamSense saved HelloFresh 3-4 hours per day managing attendance through text.  Discover how TeamSense can do the same for you.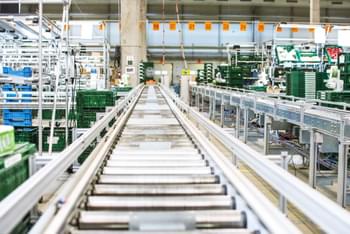 Why HelloFresh Chose TeamSense
Employees Have Simple Absence Reporting
TeamSense's user interface is simple, intuitive, and works through text. HelloFresh wanted the system they chose to deliver both accuracy and confidence to their team.
With TeamSense, employees can report an absence in under 10 seconds and feel confident knowing their absence submission was received by their manager.

Employee Rollout Was a Big Success
HelloFresh selected one production location as a testing ground.
"We made a really big deal out of it… Overall, it was a pretty big success. We hit all of our timelines. TeamSense was there to answer questions and support through the whole process." - Amber Baley-Johnson, HelloFresh HR.
Initially, during a transition phase to TeamSense, HelloFresh kept its previous voicemail system in place for a few weeks.
After two weeks, HelloFresh confirmed the usability of the system and began planning further expansion. Within four weeks, they deployed TeamSense to the remaining U.S. sites.
Language Preferences Are Available
Clear communication is critical to navigate the attendance process and it was vital for HelloFresh to find a provider to translate their system into each team member's native language.
"Being able to add Creole and continuing to talk to sites about what other languages are spoken… makes associates feel included and seen. It's an important part of building a culture of inclusivity." - - Amber Baley-Johnson, HelloFresh HR.
Voicemails Are No Longer The Only Option for Employees
HelloFresh knew that a system based solely on voicemail was no longer viable for their growing teams, and they needed to provide employees with different options for calling out. Text is a simple and accessible way for employees to communicate their absence with management.
All Data Is Standardized & Automated
HR needed automatic time-stamping, documentation, and standardized data collection to relieve administrators of manual tracking.
"It had to be simple, and it had to be self-service, but it had to also be standardized and not quite so random." - Amber Baley-Johnson, HelloFresh HR.
TeamSense Offered an Innovative Partnership
HelloFresh didn't just want a technology vendor but rather a long-term partner that could grow with them and enable them to succeed as they encounter new growth opportunities and needs.
"Our corporate teams have actually reached out to us with some questions about how to use it on a much broader scale." - Amber Baley-Johnson, HelloFresh HR.
TeamSense is excited to continue to partner with HelloFresh to reimagine how they manage, communicate, and engage with their frontline teams.
"It's been nothing but a positive experience for me. I couldn't have asked for a better partnership." - Amber Baley-Johnson, HelloFresh HR.