So you've got those engagement surveys back from your employees, and things look…well, not as good as you had hoped. If you're ready to lift those employee engagement numbers by next quarter, you have to spend time reconnecting with your team.
It can be tricky to find employee engagement ideas that work. That's why we're serving up 10 solid employee engagement activities to reconnect with your team in a meaningful way.

What is Employee Engagement?
Employee engagement is a human resources term we use to talk about how connected an employee is to the company they work for and the type of work they do. Employee engagement can be measured through monthly, quarterly, and end-of-year engagement surveys to gauge how invested the team member feels.

Why is Employee Engagement Important?
We know employee engagement is a hot buzzword these days, but there's a reason why. Coming up with fun employee engagement activities can be tough (and maybe even seem silly), but they make a huge difference. Here's why.

Engagement reduces absenteeism.
More engaged employees mean less absenteeism. In fact, a high level of employee engagement can reduce absenteeism by as much as 81%.1 Employees who remain engaged with your company are far more likely to show up to work on a regular basis. And that's great news for your business.

Engagement creates connection.
Engaged employees are more likely to put in the effort to connect with other team members. This helps to build a more connected culture that will encourage team unity. Employees who feel they have a spot at your company will likely enjoy their job much more.

Engagement increases retention.
One in three new hires will leave a new company in their first 90 days on the job.2 That's why it's so important that your onboarding program engages employees right out of the gate. Of course, employee engagement ideas don't end after onboarding is done. And as your employees continue at your company, they need to feel valued and appreciated to increase retention.

Engagement increases revenue.
Did you know corporations with strong employee engagement levels typically achieve a 21% higher profitability?3 Simply put, employees who are engaged at work can bring in more revenue compared to their unengaged co-workers.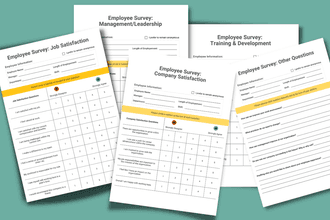 Download An Engagement Survey To Gauge Morale
Poor employee morale can be a leading cause of burnout and employee turnover. Our engagement survey can help pinpoint issues and keep employees!
10 Employee Engagement Activities to Engage Your Team
1. Recognize Your Team With Awards
There's just something about getting an award that humans gravitate towards. Maybe it's the public recognition that comes along with it, or the chance to really know that your contribution mattered. Whatever it is, awards are physical reminders to your employees that they are valued and appreciated—and people love that.
If it isn't feasible for your team to do small trophies or certificates company-wide, you can still make that happen within your department or small team. Have fun with it!

2. Create Sports Leagues
Nothing builds community (and healthy competition) like group sports. You can send a survey out to your team to learn what sports are most popular with the crew. If the top three sports you get back are basketball, soccer, and golf, then start co-ed sports teams for those. Need indoor ideas for winter? Try out bowling and indoor volleyball leagues.
Whatever sports you choose, make sure you notify the entire company about the leagues so everyone has a chance to participate.

3. Host Town Hall Style Meetings
Whether once a quarter or twice a year, set aside some time for your company to ask questions of the leadership team in a Town Hall group meeting. This can go a long way toward building employee engagement and investing in the company's mission. It also creates a clear communication channel for transparency and helps your team make their voices heard.

4. Listen To Your Team
Speaking of letting their voices be heard—never pass up an opportunity to listen to your team members. It's worth it—71% of employees say they are more effective at their job when they feel heard.4 So lend an ear whenever the moment calls for it.
This can be done with something official like regular one-on-one meetings or just as simple as lending an ear at the water cooler. Either way, the same advice applies. Listen, and listen often. It will do wonders not only for employee engagement but also for building trust with your team.

5. Create Special Interest Groups
Do you have team members who love to cook, play board games, or have other fun interests? Set up special groups or clubs to let your employees join with others who have the same things in common. Your employees can play board games over lunch or set up a chili cook-off to display their skills.
It might seem like small initiatives, but these groups can build connections and make employees feel like they have a home at your company. Every team member wants a place to belong, so help them foster that.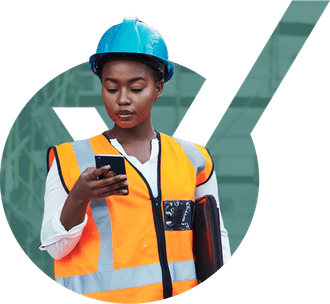 Get the Latest HR Trends and Best Practices Right in Your Inbox
TeamSense understands what it takes to lead hourly employees. New insights are regularly published to help you improve workplace culture for your hourly teams.
6. Onboard New Team Members Using Mentors
Doing onboarding right is not only key to retention, but to employee engagement as well. You want every new hire to feel welcomed and part of the group right away. The best way to do that is by pairing them up with a mentor or "buddy" to help them onboard well.
Onboarding might seem like a simple check box in the new hire process, but its benefits are far-reaching. Here's why: 53% of HR professionals feel a smooth onboarding experience positively affects employee engagement.5 The foundation you lay when an employee onboards will go on to impact them during their time with your company.

7. Set Professional Goals
Having regular conversations about your employee's professional goals is essential to actually achieving those goals. Not only that, but keeping career goals at the forefront of your company culture can improve employee engagement at your company. Your team will be encouraged to set their own goals and feel supported by leadership to make them happen. This is huge for accountability!
Keep the SMART Goals framework in mind when setting goals for your team. Each goal should follow this path:
S - Specific
M - Measurable
A - Achievable
R - Relevant
T - Time-Bound

8. Offer Continued Training
Now that you have a framework for your employee's goals, a key employee engagement idea is offering continued training to achieve those goals. If you have a factory worker who wants to work their way into management, make sure you offer the training they need to get to that place in their career.
Employees who don't have training in place to elevate their success and continued growth can feel stuck. And just like you'd imagine—that doesn't help much when it comes to employee engagement. So find out what goals are important to your team members and then go from there with getting access to the right training.

9. Support Healthy Work-Life Balance
Here is one of the most tried and true employee engagement ideas that everyone will respond to—a healthy work-life balance. The workforce has weathered burnout and done its time when it comes to unhealthy workplace expectations. Employees are ready for a healthy work-life balance where they can work to build their company's growth while still having a thriving personal life.
So make it a point to show your employees that your workplace believes in supporting mental health and work-life balance every single day. Be sure that you encourage your team to use their PTO to rest and recoup. Having a well-rested team is essential to your overall productivity.

10. Act on Feedback
Here's a friendly reminder: It does you no good to collect those engagement surveys if you don't put them to use. Take your employees up on their suggestions for improvement and ideas for growth. Employees who feel they have a say in the company's direction will feel more invested. And that's something no fun employee engagement activity can compete with. 
Make Engagement Easier With Text Surveys
If you want your employees to give you honest feedback, you have to make the process simple. And you can't get more simple than sending engagement surveys through text. Plus, relying on text surveys means your employees might actually respond since 99% of all text messages end up being looked at.6 Our text-based pulse surveys let you customize questions so you get the candid answers you're looking for.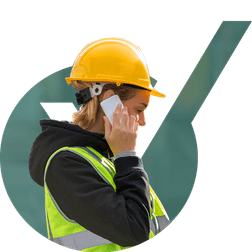 Help Your Hourly Employees Thrive
TeamSense empowers your team through engagement, keeps everyone in the loop with attendance, and saves you time (and dollar signs) while boosting productivity along the way.
Nope, you don't have to have the latest tech to get it done. All you need is text.
*By filling out the form you agree to TeamSense's
Privacy Policy
. Your information is never resold.
Related Content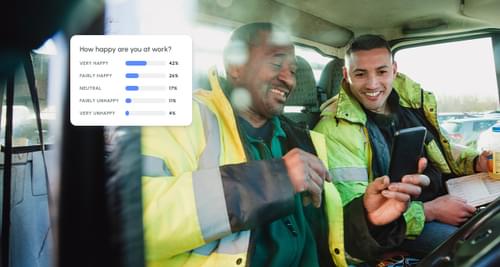 Solutions
Employee Engagement
Get feedback and increase team member engagement with surveys over text.
Learn More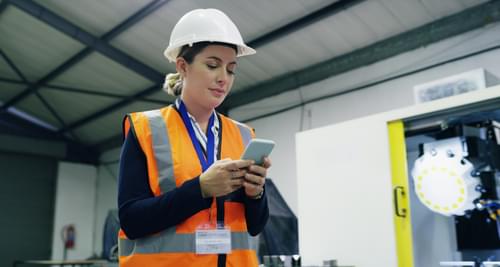 Blog
How To Communicate With Hourly Employees Without Access To Email
Explore how to effectively communicate with hourly manufacturing employees without company emails, using text, apps, and other methods for improved engagement & productivity.

Sheila Stafford
CEO, TeamSense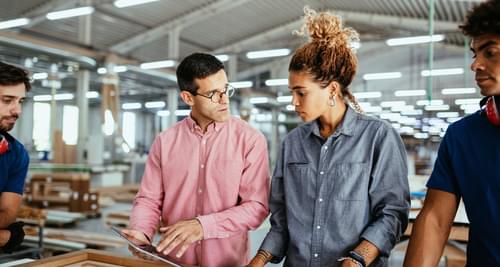 Blog
The Complete Guide to Shift Management
It's time to give your shift management system the refresh it deserves.

Sheila Stafford
CEO, TeamSense