It may surprise you to learn that one of the top three reasons employees leave a company is because they have a poor relationship with their direct supervisor.1
Improving how your managers communicate can pay off big in earning trust and building loyalty among your team to increase employee retention.

The Benefits of Open Workplace Communication
Open workplace communication means having a workplace culture where employees feel comfortable sharing and receiving feedback with managers and other team members without worrying about consequences.
The main benefits of open communication in the workplace are stronger relationships with your team and a positive impact on employee loyalty and engagement.
When employees feel valued and heard, they are more engaged, enjoy their work more, and want to do an excellent job for the company.
Effective employee communication isn't just bulletin boards and standup meetings, but also actual conversations where supervisors and employees take the time to check-in, exchange ideas, talk about any issues, and discuss potential solutions.

Communication Barriers Between Managers and Employees
When it comes to effective communication between managers and employees, common barriers hold organizations back.

Unclear Expectations

Inconsistent Check-Ins

Large Team Sizes

One Way Communication

Language Differences
Unclear Expectations
When there is a lack of clarity or understanding about roles and responsibilities, leave management policies and the like, team relationships and manager-employee communication can suffer. Set clear expectations about your team's roles and responsibilities to keep your workers on the same page.
Inconsistent Check-Ins
Everyone gets busy, but if you're constantly unavailable and don't schedule regular check-ins with your team members, they will feel ignored and undervalued. Schedule regular town hall meetings, open door times, and one-on-ones so your staff feels like a business priority.

Reach Your Hourly Workers On-Demand With Text
If you really want to communicate better and boost morale, you have to understand your employee's needs. See how TeamSense can help you build an employee, manager relationship. 
Large Team Sizes

When managers are unable to establish a personal relationship with their staff, the team is too large. Large team sizes are the reality for many industries today, so some supervisors are stuck deciding between getting tasks done and building relationships. Managers should set time aside to answer employee questions and address any concerns outside of a daily standup or town hall type environment.
One Way Communication
Organizations may feel that they communicate successfully to their staff, but if they aren't opening up communication channels to allow for dialogue to go both ways, they are missing out on a massive part of improving relationships within their team.
Language Differences
Suppose you have a large population of non-English speakers in your workforce. In that case, you need to consider it a growth opportunity for your communications strategy and not make it an exclusion point. The same goes for gender or religion-based differences, among others. There are a lot of ways that you can improve your strategy to accompany a diverse workforce.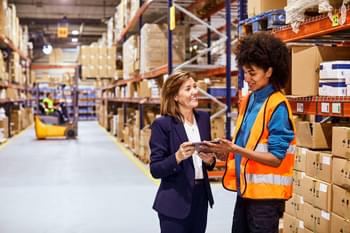 6 Tips to Improve Manager Employee Communication
Motivating staff and improving team morale starts with strong communication between your team members and their direct supervisors.
Stay Positive and Focus on Growth

Build an Open-Door Policy Culture

Be Honest and Upfront

Encourage Hand Raising and Feedback

Get Creative and Have Fun

Invest in an Employee Communication Tool
Stay Positive and Focus on Growth
Optimistic leaders inspire progress and keep the conversation moving organically toward solutions. If feedback is overly pessimistic, it can hurt organizational culture. Be constructive with feedback, always talk about solutions, and encourage employees to look for ways to grow and develop their communication skills.
Build an Open-Door Policy Culture
All supervisors should have strong emotional intelligence and people skills that foster an open-door environment, both literally or figuratively. Everyone on your team should feel that they can go to a manager or senior leader when they have something they need to address. Ensure an open-door policy by empowering your managers with strong communication skills and ensuring they are providing adequate space and opportunities for employees to give feedback.
Be Honest and Upfront
Successful businesses are transparent with their teams. Establish honest communication by keeping your entire workplace informed about how the company is doing, even if it's not always good news. Tell the staff why upper management makes certain decisions; it will go a long way in building trust and understanding.
Encourage Hand Raising and Feedback
An essential part of good communication is making sure it goes both ways. A good boss will encourage and motivate employees to raise their hands, bring up issues, and communicate feedback to ensure your team is engaged and dedicated to the growth of the organization.
Get Creative and Have Fun
Be thoughtful in what you communicate to your team; be personable, have fun with it, and use every conversation as a chance to increase the loyalty your employees have in your organization. Use dialogue to talk about the fun and exciting things you can call out about working with a company or a team like yours.
Invest in an Employee Communication Tool
Explore communication tools like apps or mobile options that create additional avenues for you to reach out to frontline or hourly staff, build connections between managers and employees, and increase employee engagement. Text communication, like quick check-ins and surveys, is another way to improve workplace communication and engage your team easily in a format that works for them.
Stay consistent, caring, and intentional in your communication strategy, and your team, your managers, and your organization will be stronger for it.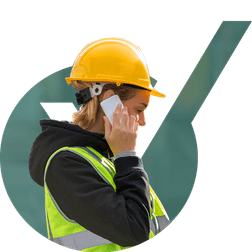 Help Your Hourly Employees Thrive
TeamSense empowers your team through engagement, keeps everyone in the loop with attendance, and saves you time (and dollar signs) while boosting productivity along the way.
Nope, you don't have to have the latest tech to get it done. All you need is text.
*By filling out the form you agree to TeamSense's
Privacy Policy
. Your information is never resold.
Related Content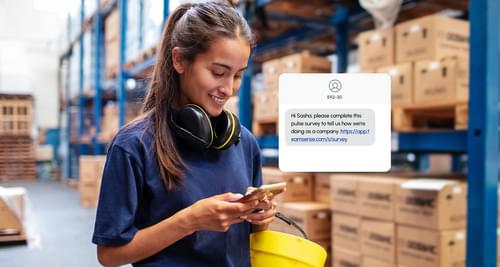 Solutions
Employee Communication
Use mass text messaging to keep teams, locations, and even your entire company in the loop.
Learn More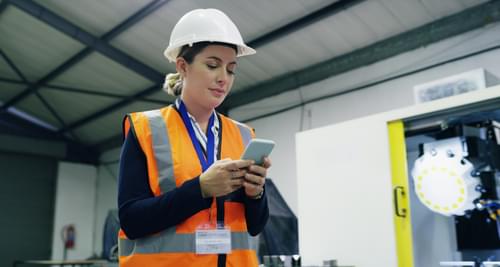 Blog
How To Communicate With Hourly Employees Without Access To Email
Explore how to effectively communicate with hourly manufacturing employees without company emails, using text, apps, and other methods for improved engagement & productivity.

Sheila Stafford
CEO, TeamSense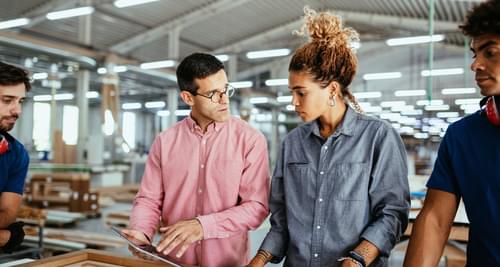 Blog
The Complete Guide to Shift Management
It's time to give your shift management system the refresh it deserves.

Sheila Stafford
CEO, TeamSense