So you want to show your employees you appreciate them, but you need to know how to do it? You've come to the right place. We've gathered up 15 simple employee appreciation ideas that are tried and true whether you're at a small company or a large one.
But before we get to the list of staff appreciation ideas, let's talk about why employee recognition matters.

Why Is Employee Recognition Important?
Most employees want to feel like their role at the company matters and that they are making a difference. Employee recognition lets employees know their work is seen, noticed, and appreciated. Giving your employees a sense of security when it comes to the impact they have within the company can help to grow team loyalty, boost retention and reduce employee turnover.
You would think appreciating hard-working employees would be something every company excels at. But unfortunately, that's just not the case. A recent survey by Gallup-Workhuman found that 81% of leaders say recognition is not a major strategic priority at their company.1
Bottom line? People want to be valued. And if you want to retain your employees for the long run, it's worth taking the time to appreciate them.
When Is Employee Appreciation Day 2023? 
National Employee Appreciation Day is recognized on the first Friday in March. In 2023, Employee Appreciation Day falls on March 3rd. The holiday was launched in 1955 by Workman Publishing and is used to appreciate employees each year. Mark it on your calendar so you don't miss it!
But remember, you can show your gratitude before Employee Appreciation Day. Be on the lookout for employee recognition ideas you can put to use all year long.
Why You Should Celebrate Employee Appreciation Day
Never pass up an opportunity to brag about your team and let them know you appreciate them. Celebrating National Employee Appreciation Day is just another opportunity to do that. Team members who feel appreciated are more likely to stay at your company. In fact, employees who receive recognition on a regular basis are 56% less likely to be looking around for other job opportunities.2 On top of that, employees are up to 90% less likely to experience burnout over time when they are recognized and appreciated.3

Save 120+ Hours A Year Like Hello Fresh With TeamSense
See how TeamSense saved HelloFresh 3-4 hours per day managing attendance through text. Read the case study here and book your demo today!
15 Simple Employee Appreciation Ideas
Figuring out employee appreciation ideas for your team doesn't have to be complicated. We've come up with a list of 15 staff appreciation ideas to get you started. Everything from some inexpensive employee appreciation gifts to employee appreciation ideas for large companies. You'll even find a few out-of-the-box creative employee recognition ideas on our list too. Let's dive in!
1. Honor Your Team With Awards
Here's an employee appreciation idea they'll never forget (and they can keep with them forever too). You can recognize your team members with awards at the end of each year. Have fun creating categories for things like character/integrity awards, safety awards, and top performer awards.
Recognizing a team member who has done exceptional work with an award will make them feel seen and appreciated. Bonus: It'll help build some fun into your company culture too.
2. Give Public Shout Outs
There's nothing better than being called out for doing a good job in front of your peers. Don't miss the opportunity to shout out members of your team who you're proud of and appreciate. You can do this by sending out a message to the team or waiting until the whole team is gathered together for a group meeting.
3. Write Thank You Notes
Words are powerful. People appreciate being praised and told that they're doing a good job. It makes them feel seen and appreciated and will probably encourage them to continue to produce quality work.
P.S. Here's your reminder that you don't need a reason to send a thank you note. It doesn't have to be for a work anniversary or after they finish a big project. In fact, sometimes a note of gratitude has the most impact when it shows up just because you appreciate them.
4. Give Bonuses and Pay Increases
Okay, you knew this was going to be on the list somewhere. Appreciative words are great, but backing that up with a little pay bump come annual review time is a nice way to show you really mean it. Bonuses and pay increases are employee recognition ideas that truly show your employee their hard work has been seen and appreciated.
5. Highlight Employees on Social Media
This is another easy staff appreciation idea. Have an exceptional employee? Feature them on your LinkedIn or Facebook page with a picture and a short profile about the employee. This one works on multiple fronts too—the employee feels recognized, and fellow team members hope they'll be featured next. Plus, potential job candidates will see how your company values the team.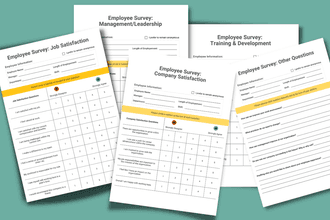 Download An Engagement Survey To Gauge Morale
Poor employee morale can be a leading cause of burnout and employee turnover. Our engagement survey can help pinpoint issues and keep employees!
6. Increase Flexibility and PTO
Nowadays, we think the word flexible automatically means working from home. But that's just not the case. Not every job will allow the ability to work from home, but that doesn't mean there is zero room for flexibility either.
Consider rewarding exceptional employees with PTO to take a Friday off or have an extra lunch hour for a week. Or maybe you let them clock in two hours later than their normal shift all week. Whatever sort of time off reward you pick, make sure you give it to them with pay.
7. Send Gift Cards
Small gift cards to universal things everyone loves (like coffee) can really go a long way. Consider getting a simple gift card when you want to say a heartfelt "thank you." Want to really make an impact? Give a meal gift card from our customer, HelloFresh. Your recipient can pick the recipes they want and cook them at their leisure.
8. Give Out Company Swag Gifts
There's no denying that people like getting free stuff—especially when it's gear representing the company they love working for. Giving out fun gifts like mugs, t-shirts, and backpacks can go a long way. Plus, they boost the company culture too. Everyone wants the company Christmas mug from last year with Santa's sleigh being put together by the manufacturing line.
9. Treat the Team to Breakfast (or Lunch)
Free stuff is great, but free food is even better. If you want an employee appreciation idea that's sure to be a crowd-pleaser, bring in some free food for your employees. A catered breakfast or lunch is a nice way to say "thanks."
10. Make Video Tributes
We've done this here at TeamSense, and it was a huge hit with the team! All you have to do is get some colleagues together and record video messages for the employee you're honoring. Have your team members share what they enjoy most about working with them or a favorite memory they share together.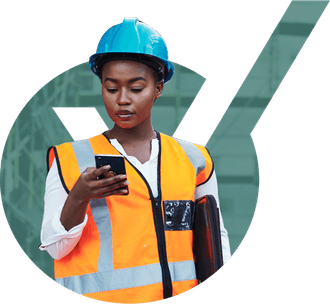 Get the Latest HR Trends and Best Practices Right in Your Inbox
TeamSense understands what it takes to lead hourly employees. New insights are regularly published to help you improve workplace culture for your hourly teams.
11. Remember Their Birthday
Treating people like people is one of the best employee appreciation ideas out there. And one way to do that is to remember important events in their lives, like birthdays. Whether your company's go-to is a cake in the break room or passing around a birthday card that the entire team signed—make sure your company has a way to celebrate.
Bonus: Consider making a company policy that gives your employees their birthday off or even an extended lunch hour. Remember, taking a special interest in your team members' lives outside of work can go a long way toward building trust and improving communication.
12. Celebrate Their Work Anniversary
Speaking of celebrations, don't forget to remember your employee's work anniversaries. They spend day in and day out working hard for your company, and it's important that they are seen and recognized for their loyalty to your company. So make a big deal out of those one-year, five-year, and 10-year anniversaries (and all the ones in between too). It will go a long way toward boosting your employee retention as well.
13. Host a Happy Hour
Who doesn't like Happy Hour? After working hours are over, of course. Treat your team to a post-work happy hour to show your appreciation. Our friends at Anheuser Busch have plenty of brew options for your next Happy Hour.
14. Encourage Peer-to-Peer Recognition
Of course, employees want to be recognized for their good work by their manager, but surveys show that it actually means more when the kind words come from peers. Knowing that, it's important to encourage your team to take time to recognize each other too. Make it part of your company culture!
15. Host a Team Outing or Retreat
Have some fun with this creative employee recognition idea, and take the team out for some bonding time (and fun). What should you do together? The sky's the limit, but here are some memorable options to get you started—ax throwing, putt-putt or TopGolf, or even a simple team picnic in a park. It doesn't take a big, elaborate event to make a huge impact.
Show Your Employees You Care
Sometimes the best way to be appreciated is just to be told a simple, "Hey! The work you're doing is making a difference. We appreciate that you are here!" And the easiest way to do that is using TeamSense's Communicate feature.
When you send messages through the TeamSense employee communication platform, it sends to your employees instantly through text. It's a great way to send out celebration messages on birthdays or work anniversaries (and notes of appreciation "just because"). Using text makes it simple. Say goodbye to needing company email access and using those clunky employee communication apps for good.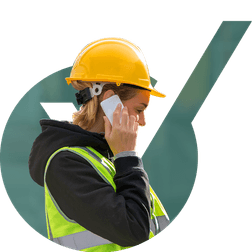 Help Your Hourly Employees Thrive
TeamSense empowers your team through engagement, keeps everyone in the loop with attendance, and saves you time (and dollar signs) while boosting productivity along the way.
Nope, you don't have to have the latest tech to get it done. All you need is text.
*By filling out the form you agree to TeamSense's
Privacy Policy
. Your information is never resold.
Related Content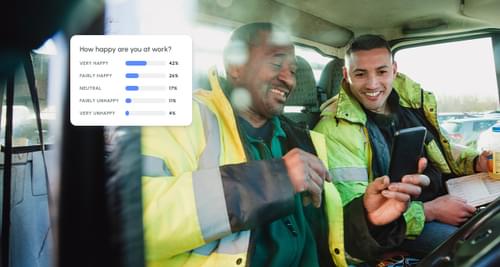 Solutions
Employee Engagement
Get feedback and increase team member engagement with surveys over text.
Learn More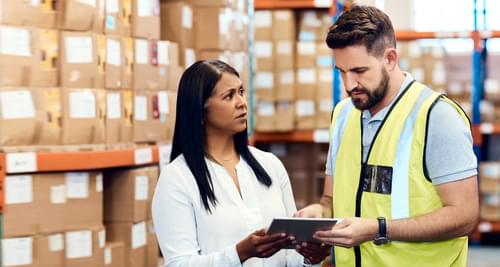 Blog
How to Write an Employee Attendance Write Up
Need help writing an attendance write-up? With our step-by-step guide and practical examples, you won't have any questions about what to include and how to format it. Plus, discover proactive tips to foster a company culture that inspires punctuality and regular attendance.

Sheila Stafford
CEO, TeamSense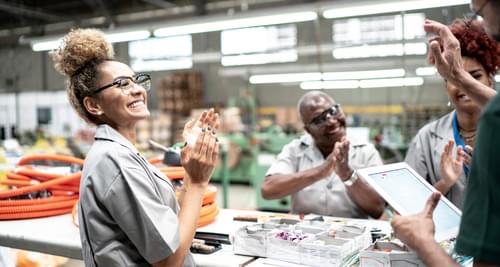 Blog
The Impact of Absenteeism on Manufacturing Productivity
Productivity - it's a key component in every industry, but some may argue that it's THE center of everything when it comes to manufacturing. But what happens when you can't get employees in the door? Let's take a look!

Sheila Stafford
CEO, TeamSense