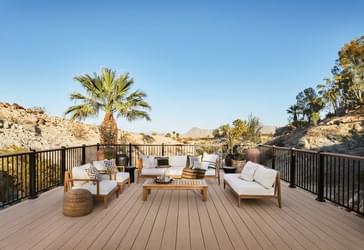 Nov 15, 2023
Customer Spotlight Webinar Recap: Tim Carracher from The AZEK Company
TeamSense Transforms Call-Off at 15 Sites to Keep 24x7 Operations Running

Sarah Ervin
Sr. Customer Success Manager
As a Senior Customer Success Manager at TeamSense, I have the privilege of helping our customers transform their HR operations with our solutions. Last month, our Head of Sales Rob Balena hosted our first ever Customer Spotlight Webinar, to share stories of TeamSense customer success. Rob spoke with Tim Carracher, Sr. Manager of HRIS at The AZEK Company. Even though I've worked with Tim and the team at AZEK for many months, I was excited to hear him talk with Rob about AZEK's success.
If you don't have the time to watch the recording of the whole webinar, here are some highlights.
About The AZEK Company and Tim Carracher
AZEK is an innovative manufacturer of beautiful, low maintenance and environmentally sustainable outdoor living products. The company manufactures products that look just like wood but are made primarily from recyclable PVC or composite materials. They're low maintenance and last for thirty or forty years. Tim Carracher is Senior Manager of HRIS. He is a recent MBA graduate from the University of Illinois and he brings data-driven experience to his role at AZEK.
How did AZEK Manage Attendance Before TeamSense?
Prior to TeamSense, AZEK used a different Interactive Voice Response (IVR) platform that required a different process for each AZEK site, and employees found it clunky and counterintuitive. Tim told us that when he joined the company and took ownership of their HRIS group, the company had recently gone public. Before that, their functions ran extremely lean. Now with more resources, the company is investing in both people and technology to shift their HR systems from focus on transactional processing to more consultative types of service. They are developing processes and finding technologies that fit their new direction. This transformation brought them to TeamSense as a stronger text-based alternative to the previous call-in line.
Why Texting Off with TeamSense is Better than IVR-only
Tim has had the opportunity to visit a number of different sites, and has been hearing positive feedback on the transition to texting with TeamSense. Of course, he had heard some initial skepticism about the change, but teams are now finding it quicker and easier to text off with TeamSense than going through the previous IVR phone tree.

Listening to Tim's story about the transition to text reminded me of another TeamSense customer who watched attendance policy compliance skyrocket during implementation because it was so much easier for employees and managers to engage with the process. Also, I should mention that TeamSense also supports an IVR approach, so our customers can have the majority of employees use text and still offer IVR to those who prefer it.
Why TeamSense Texting is Better than Calling a Supervisor
After implementing TeamSense, Tim saw a big reduction in no-call no-shows and unreported absences, because people found it easier to text and report their absence than to use the previous IVR system. This meant better policy compliance and more accurate data.

A lot of employees would also avoid using the previous IVR system and would call their supervisor directly. This caused issues, because often the absence data would get lost, which had downstream impacts on policy consistency and the accuracy of their metrics.
Structured Attendance Data Helps AZEK Keep Lines Running
Rob asked Tim if he has seen any really measurable impacts from their use of TeamSense. Tim said that structured attendance data from TeamSense is critical in two ways. First, TeamSense gives the AZEK Company critical data for their real-time operations. Immediate absence notifications give managers and supervisors staffing agility to prevent work slowdowns or stoppages. AZEK runs 24-7 operations in most facilities, so continuous accurate staffing information is absolutely critical. They have a 15 minute window between shift changeovers, and getting real-time attendance information factors into how the company plans to keep the lines running over the next 8-12 hours. It's very expensive for the line to be down for any period of time.

Secondly, TeamSense attendance data goes into the dashboards and metrics that Tim and his team are developing for their new HR business practices. They have developed business intelligence platforms that they use to track key metrics like retention and performance. Now AZEK can see company-wide attendance trends and answer questions like these:
Are they trending higher in illness or COVID-related call-offs than in past months?
Is a specific department seeing more call-off than normal?
Do Wilmington employees call off more than Scranton employees?
The data gives leaders insights into actions they should take.
Now That AZEK Employees Use TeamSense, What's Next?
I'm grateful for the partnership that we have with Tim and all the sites that we serve at The AZEK Company. His experience is consistent with what we hear from other customers about the benefits TeamSense provides, and we love to hear it every time.
Our customers who run 24x7 operations love immediate absence notifications, because they help them adjust in real-time to keep their lines from stopping.
Our text-based call-off system reduces no-call no-shows because we make it so much easier for employees to report absence, without losing the accountability and policy compliance of the most structured attendance systems.
Through the course of normal operations, TeamSense captures uniform, structured data for attendance management and policy enforcement. 
We look forward to helping AZEK use more of our communication functions, such as sending out quarterly Employee Engagement Surveys as supplements to their traditional annual Employee Satisfaction Survey!