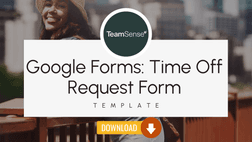 Day Off & Vacation Request Form - Google Forms
Keep track of time off requests with this Google Forms template. Record responses and keep a record right in Google without pesky paperwork. This form is perfect for requesting half days, full days, PTO, vacations, and everything in between!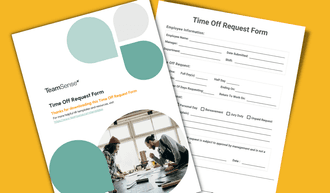 Download Your Google Forms Day Off Request Template For Free
Enter your company email below to get instant access to the template.
Vacation Request Form Template - Google Forms
In need of a vacation request form that you can use in Google Forms? We've got you covered! If you're looking for an alternative to traditional paper forms, this Google forms template is perfect! It records responses from employees who are looking to take time off and keeps a record of it right in the form itself. Whether it's for vacation, sick days, or personal time, this employee day off request form will help keep track of everyone's requests. Plus, it's easy to customize and use!
Google forms are a great way to streamline and manage various processes in the workplace. This employee time off request form template is just one of the many ways you can use Google forms to make your job easier. How? Well, it's easy to misplace paper forms, and it can be a hassle to keep track of them all. But with this time off request Google forms template, you'll have everything organized and in one place. Give it a try today and see how it can benefit your business!
Important: Please make a copy of the vacation request form before use and save it to your Google Drive. Do NOT send the form as is to employees as it is a public template.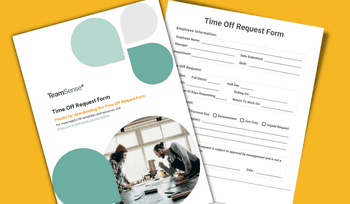 FAQs
Simply click on the "three dot" button in the top right corner of the vacation request form, and a drop-down menu will appear. Make a copy is the first, option, and it will create a copy that you can save to Google Drive and customize and use for your own purposes.

Absolutely! The great thing about using Google Forms for time off requests is that you can easily customize and adapt the form to fit your specific needs and requirements. Just make a copy of the employee vacation request form, save it to your Google Drive, and then edit the form as needed.

Yes, you can easily view all responses in the "Responses" tab on the Google Form. Employees can also opt to have a copy of the completed time off request sent to them so they can have a copy of the employee vacation request form for their records as well.

It really depends on your personal preference and the specific needs of your company. A Google Form may be more convenient for some, while others may prefer a traditional paper form. But regardless of what method you use, it's important to have a system in place for tracking and managing time off requests. This employee vacation request form template can serve as a starting point for managing those requests in a more organized and streamlined way.

There is also the option of using attendance management software like the one TeamSense offers to track time off requests. With hourly employees top of mind, TeamSense uses text for all leave requests, including last-minute, unplanned absences. Managers are notified via text themselves and are then able to approve or deny requests through the web dashboard. TeamSense then automatically updates the schedule with the absence to keep everyone informed of who is working. This can save time from constantly asking others if they are working and helps eliminate miscommunications.

This Google Forms time off request template is free for download and use within your organization. No attribution is required. Resell, or distribution over the internet, or any other medium is strictly prohibited. TeamSense owns all rights, titles, and interests in and to the Google Forms time off request template.

By using this Google Forms time off request template, you agree to the terms and conditions set forth by TeamSense.com. This template is provided "as is" without warranty of any kind, either express or implied. If you'd like to use it for commercial purposes, please contact us for licensing options.

We hope you find this employee vacation request form helpful in streamlining the onboarding process for your company. If you have any questions or suggestions on how we can improve it, please don't hesitate to reach out to us at hello@teamsense.com! We would love to hear from you. Thanks for using our template!

This request can be used by employees for a personal day, annual vacation time, sick leave, scheduled absence, jury duty, bereavement leave, medical leave, unpaid time off, paid time off, and any other employee day off leave request the HR department would like to track. The employee just needs to submit contact details, start date, end date, and all the relevant information the business organization requires to make a formal request that can be review by the Human Resources department. Each staff members personal days and vacation days can then be used to plan ahead in line with the employer's policies. All vacation request forms that are submitted can alert HR to find a temporary replacement if needed for the different types of vacation request forms with extenuating circumstances. Additional fields can be added to the day off request form like employee signature and employee ID to comply with the company's policies and employee handbook.
Build a More Connected Organization Today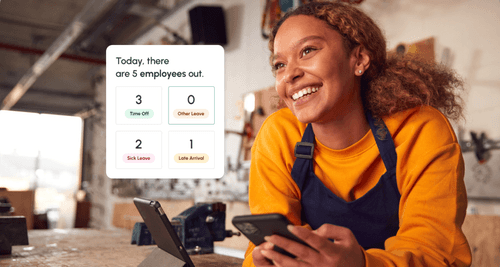 Solutions
Attendance Management
Track your employees' absences easily and efficiently with an attendance management system you can use right from your phone.
Learn More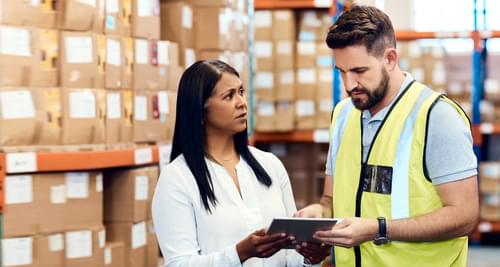 Blog
How to Write an Employee Attendance Write Up
Need help writing an attendance write-up? With our step-by-step guide and practical examples, you won't have any questions about what to include and how to format it. Plus, discover proactive tips to foster a company culture that inspires punctuality and regular attendance.

Sheila Stafford
CEO, TeamSense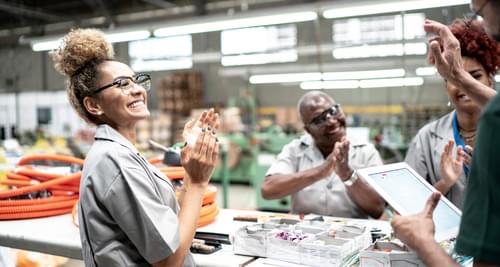 Blog
The Impact of Absenteeism on Manufacturing Productivity
Productivity - it's a key component in every industry, but some may argue that it's THE center of everything when it comes to manufacturing. But what happens when you can't get employees in the door? Let's take a look!

Sheila Stafford
CEO, TeamSense