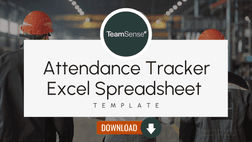 Employee Attendance Tracker Excel Template
A free, straightforward Employee Attendance Tracker Excel Template for all industries. Download and add your employee's information, and you're good to go!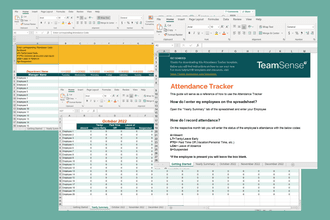 Download Your Excel Attendance Tracker Template For Free
Enter your company email below to get instant access to the attendance template. For the Google Sheets version, navigate here. 
Employee Attendance Tracker Excel Template
If you are looking for an easy way to track employee attendance in Excel, look no further! We have created a downloadable attendance tracking Excel template that will make the process a breeze. This template allows you to track monthly and daily absences, the reason the employee was out, as well as calculate the monthly average. It is a simple monthly attendance sheet that you can download for free and put into use right away. All you have to do is select the date, employee name, and reason for absence, and the template will do the rest. Our Excel spreadsheet is easily customizable, so you can tailor it to fit your specific needs. Give the attendance template a try today and see how much easier tracking employee attendance can be!
FAQs
An attendance tracking template, in general, is a tool used to track employee attendance. It can be used to calculate the monthly or daily average of absences, as well as track specific types of absences. This information can be helpful in managing employee productivity and ensuring compliance with company regulations and policies.

An Excel attendance template can be used to:


Track employee attendance

Calculate the monthly or daily average of absences

Track specific types of absences

There are a few different ways that you can create an attendance spreadsheet in Excel. One way is to use a pre-made template, like the one we offer for download on our website. Another way is to create your own template from scratch. If you choose to do this, we recommend including the following information:


Employee name

Date

Absence type

Hours absent

Reason for absence (optional)

Once you have this information, you can use Excel's built-in formulas to calculate the monthly or daily average of absences. You can also use conditional formatting to highlight specific types of absences, such as sick days or vacation days.


This is a loaded question and really depends on the needs of your business. An Excel template can be a great way to track employee attendance, but it might not be the best solution for every business. If you have a large workforce, or if you need to track employee attendance in real-time, you might want to consider investing in an attendance tracking software, like the one TeamSense offers. TeamSense's absence management system offers a number of features that are well worth the investment, such as:


Real-time tracking

Real-time reporting through text

Integrations with other software (e.g. payroll, time clock)

Advanced Reporting

Attendance policy enforcement

And much more!

No matter what business you are in, large or small, tracking employee attendance is important. Many businesses use an Excel spreadsheet to track this information, but the process can be time-consuming and error-prone. Our attendance tracking solution streamlines the process and makes it easy to get accurate information with just a phone in hand.

If you are still unsure about whether an Excel template or attendance tracking software is right for your business, Braden, our attendance specialist, would love to talk with you. He will be able to assess your needs and recommend the best solution for your business no strings or fees attached!


This Excel attendance tracking template is free for download and use within your organization. No attribution is required. Resell, or distribution over the internet, or any other medium is strictly prohibited. TeamSense owns all rights, titles, and interests in and to the Excel attendance template.

By using this Excel attendance template, you agree to the terms and conditions set forth by TeamSense.com. This template is provided "as is" without warranty of any kind, either express or implied. If you'd like to use it for commercial purposes, please contact us for licensing options.

If you have any questions or suggestions, please feel free to reach out to us at hello@teamsense.com! We would love to hear from you. Thanks for using our template!

An employee attendance sheet is critical to recording attendance. With an attendance tracker Excel you can leverage features like conditional formatting, data validation and setting a date range to help you manage payroll, daily employee attendance, working days, sick leave, attendance status, and employee time. The employee attendance spreadsheet can make it easier to create employee attendance records and attendance reports for multiple employees. In addition to this, an attendance sheet template will help you get started on tracking attendance, marking attendance, recording attendance, and tracking employee attendance. The best employee attendance tracker will include an attendance column, personal days remaining column, a how many sick days column, a how many vacation days column, and monthly attendance sheets in one attendance tracking workbook. An employee attendance tracker template will help you get ready to track attendance quickly. It will also serve as an employee absence tracker so you can be sure there is a reliable attendance record.
Build a More Connected Organization Today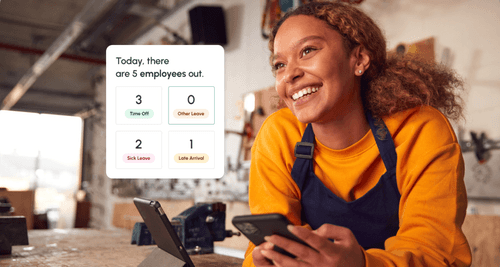 Solutions
Attendance Management
Track your employees' absences easily and efficiently with an attendance management system you can use right from your phone.
Learn More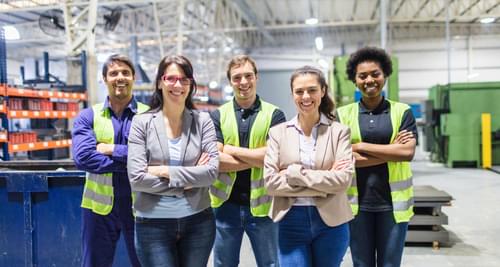 Blog
How To Draft An Effective Manufacturing Attendance Policy
Discover how to create an effective manufacturing attendance policy, exploring point-based and non-point systems, enforcement strategies, and legal considerations to boost productivity and reduce absenteeism.

Sheila Stafford
CEO, TeamSense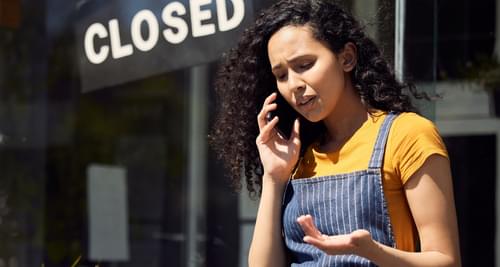 Blog
How to Track Employee Absences
Here are four ways to track employee attendance without using an Excel spreadsheet.

Sheila Stafford
CEO, TeamSense