The PTO & Leave Tracking System Built for Hourly Employees
Lose the spreadsheets. Ditch the passwords. It's time for leave management software that doesn't require an email or login. It's simple to use—employees can just text in when they're out, and TeamSense takes it from there.
Leave Management Software That Employees Want
Keeping track of employee leave can be a heavy burden. Between managing every spur-of-the-moment call out and monitoring intermittent FMLA—leave management can get time-consuming. Ready to win back some more time in your day? Get leave management software that makes life easier for both employees and HR staff.
Easy doesn't always mean more technology. Your team doesn't need another app to download. There are plenty of cons involved with these fancy leave management software apps:
Privacy concerns & team member pushback
Union agreements can prevent using an absence management app
Employees could pay monthly fees
Phone software that doesn't support these apps
Singles out employees who aren't comfortable using tech
Not inclusive of letting employees respond in their natural language
Try It For Yourself!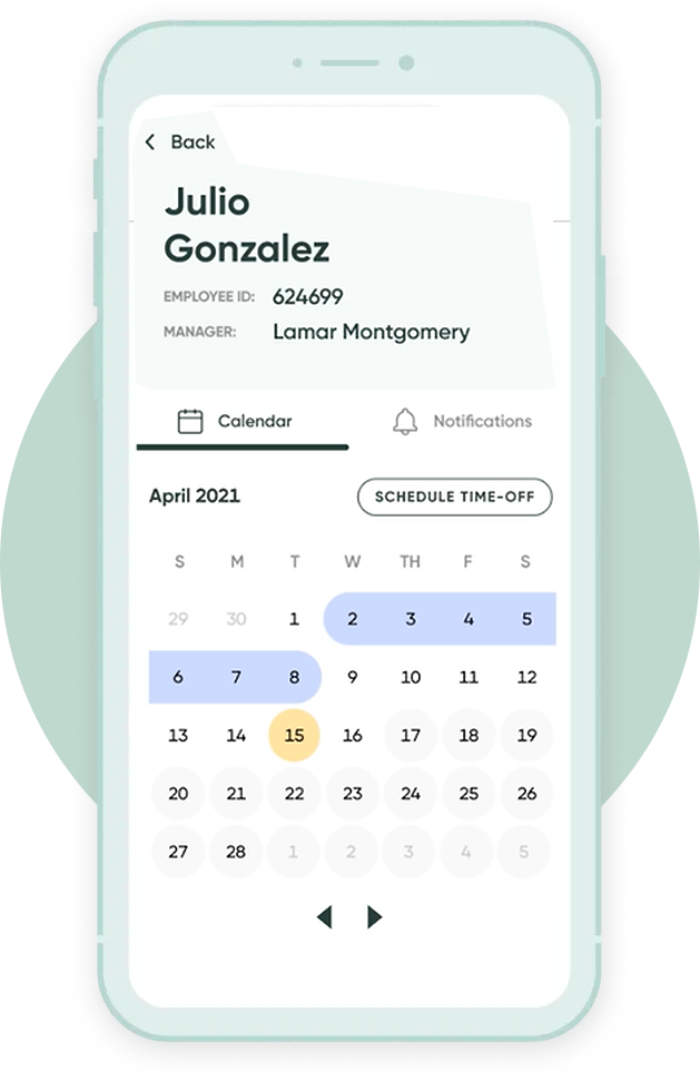 The Employee Vacation Tracker Made For Reliable Results
It's time to ditch your outdated leave management system. Skip the confusing leave tracker spreadsheets, paper forms, and dealing with all those calls from team members who can't make it in. There's a better way to do employee leave management for your team. TeamSense is the common ground that unites the hourly workforce.
TeamSense updates are pushed through text messages with no technology gaps or language barriers for your employees. Plus, with 99% of text messages being read overall—90% within the first three minutes—you can be confident that your team is getting your updates.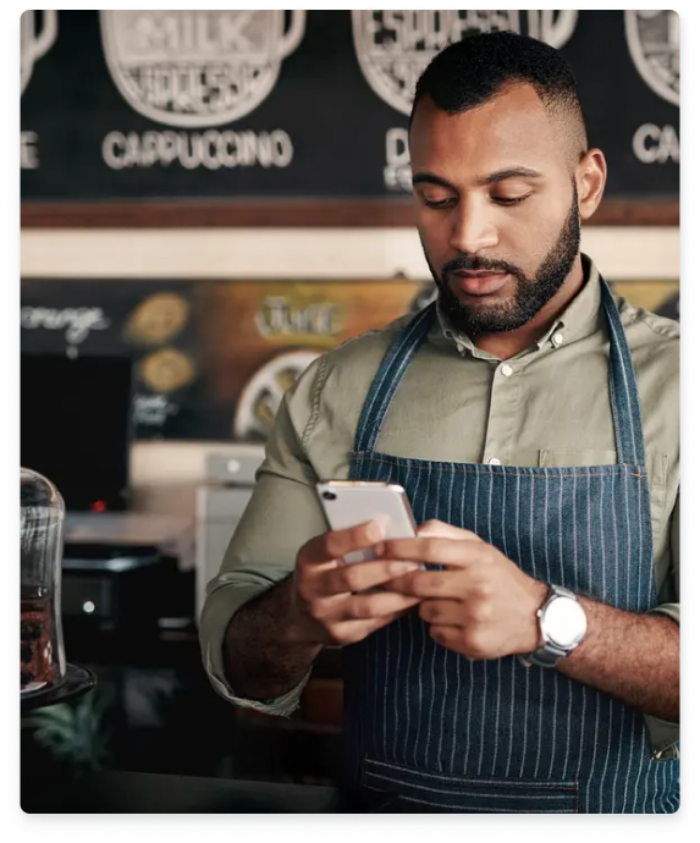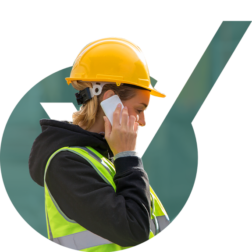 The Future of Vacation Tracking Software for the Hourly Workforce Is Text
Coordinating an extended leave can be tricky. If you have an employee out on disability leave, workers' comp, or intermittent FMLA, you need a seamless leave tracker. Take the burden off of your team by letting them communicate with you in a straightforward way.
With the TeamSense leave management system, there are no company logins to remember and no apps to download. With a simple text message, you can unite your entire staff and ensure everyone's on the same page without any tech barriers.
How Does The Leave Management System Work for Leave Requests?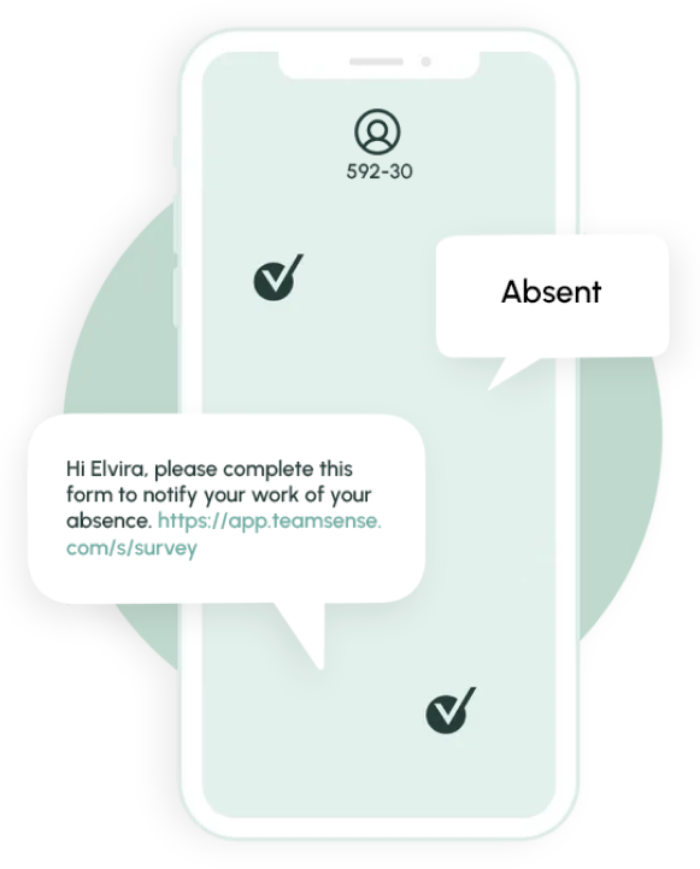 Reporting PTO is easy with our keyword-triggered workflow. Employees just text "absent" to trigger a series of questions set up with HR. With 19 different languages available, everyone will have access to communicate easily.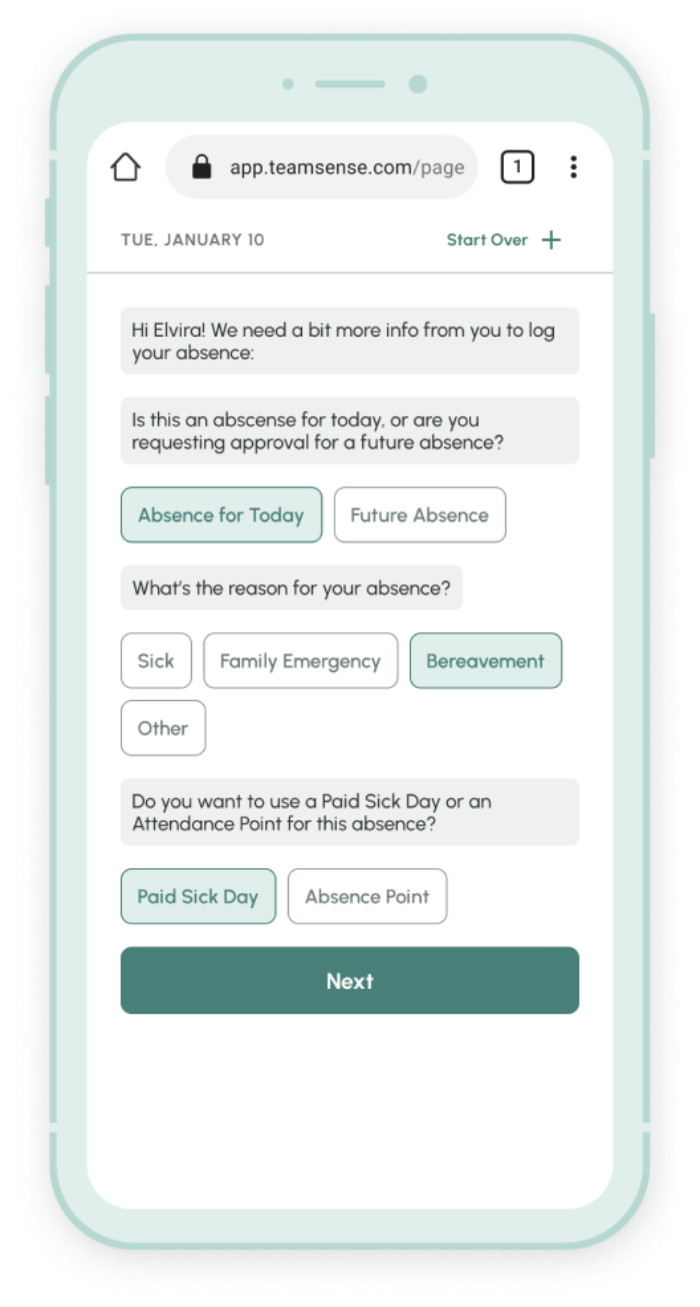 Multiple choice options are available so that employees can select which day they're unavailable and what block of hours they can't work. Simple workflows allow admins and team members alike confusion-free access when scheduling time off.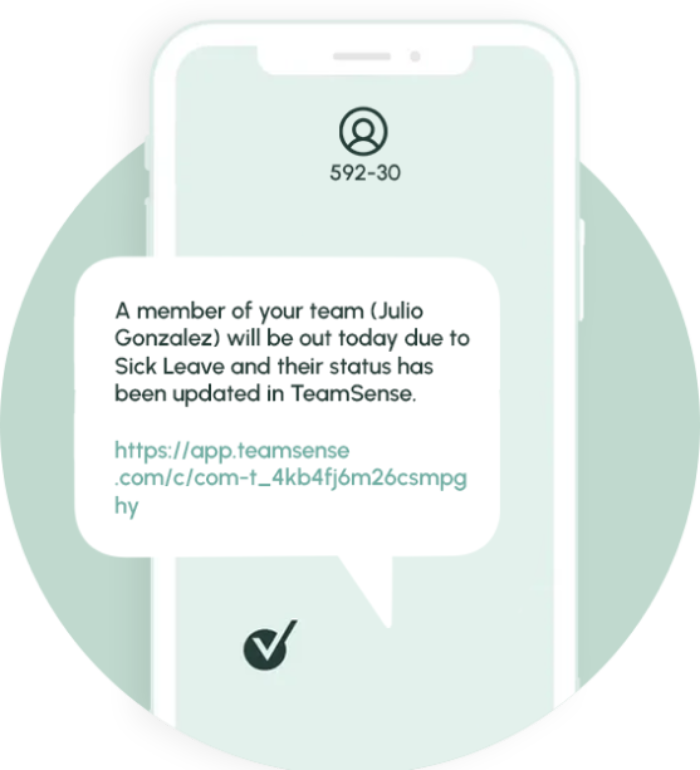 Managers and team leaders receive an instant notification when a teammate hits submit, so they can communicate out for shift fulfillment or overtime requests. Data collected in the online dashboard provides HR administrators with all this important information at their fingertips—no more listening to voicemails.
Why the TeamSense PTO Tracker?
TeamSense is a revolutionary way to manage employee time and PTO tracking. With no app, the TeamSense leave management system makes it easy for companies who want a hassle-free experience for their hourly employees while saving their HR department time and frustration.
Save your managers up to 2 hours per week dealing with leave trackers, employee time-off, and making payroll adjustments. Our leave management solution tool helps HR teams easily manage employee PTO tracking, intermittent FMLA, and unplanned time off.
No more tech barriers or spreadsheets—just text messages that get your job done quickly. Get the innovative PTO management software you need to support your hourly workforce.
All the Features You Need. No Complicated Leave Tracker App to Mess With.
Employee Self-Service
TeamSense's employee self-service solution allows your team to access everything they need whenever they need it. With round-the-clock access through text, they can quickly request time off, access the employee handbook, and find policies and forms in the employee self service portal. And because TeamSense doesn't require a company email or a PTO management app, it's fast and easy for everyone to use.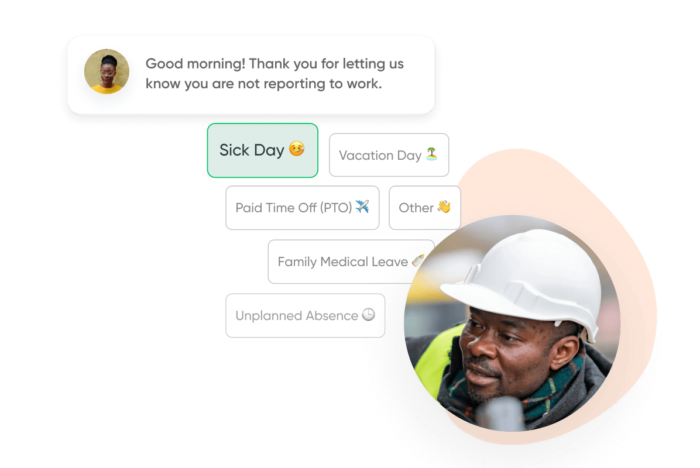 Leave Insights & Powerful Reports
There are a lot of reasons why employees might need to take extended time off work. Whatever the reason, intermittent FMLA and lengthy leaves of absence can have a big impact on your business. That's why tracking time off and understanding patterns and trends are essential. Our leave management solution makes it extremely easy to do just that with efficient reporting tools.
Celebrate team members with no absences
See employees who've been gone the most days
Sort leave tracking data by type, date, manager, location, or division
Spot leave trends that impact your bottom line and output
Maintain adequate staffing
Access detailed reports and PTO trends
Grab a Free Demo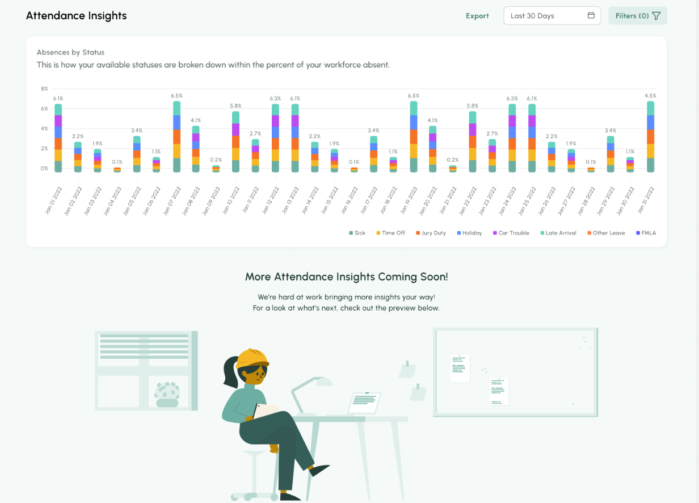 Diverse Language Translations
The hourly workforce is more diverse than ever before. Employees come from all different backgrounds and speak a variety of languages. Give each team member a voice by offering a variety of language options. TeamSense PTO tracker software is committed to supporting a diverse workforce and offers 19 languages to boost communication.
Available languages:
Akan
Arabic
Bengali
Burmese
Chinese (Simplified)
Chinese (Traditional) - Taiwan
Cantonese Chinese
English
French
Haitian Creole
Hindi
Khmer
Marshallese
Nepali
Somali
Spanish
Swahili
Tagalog
Vietnamese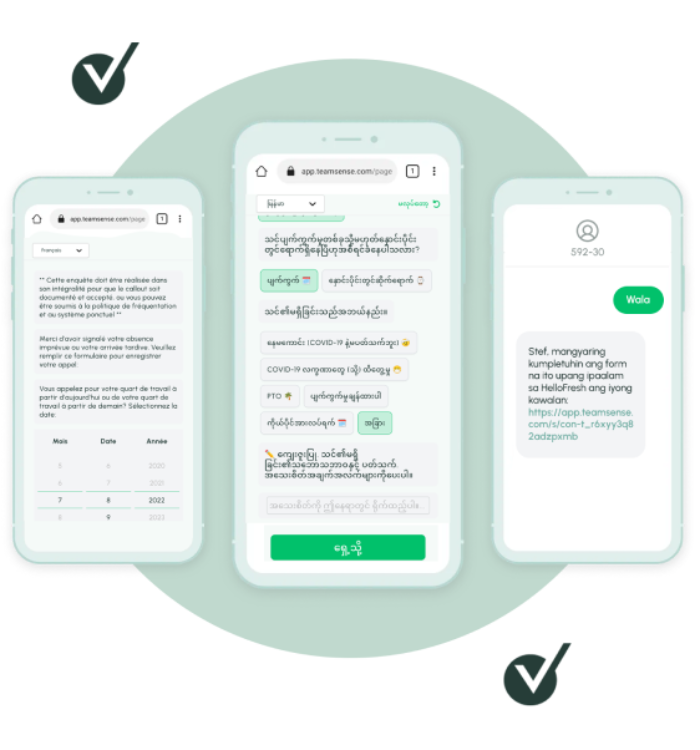 Simple Integrations
The last thing you want to worry about is keeping up with your hourly workforce roster changes in . That's where TeamSense comes in. Our PTO tracker software integrates with most major HRIS providers, so you can easily sync data between systems. With our HR management software integrations, you can:
Check PTO, points, and time off balances
Avoid manual entry and reduce payroll errors
Benefit from solid documentation
Use encrypted data
If your HRIS provider isn't on our list, just let us know. With the TeamSense leave management system, tracking your hourly workforce is effortless.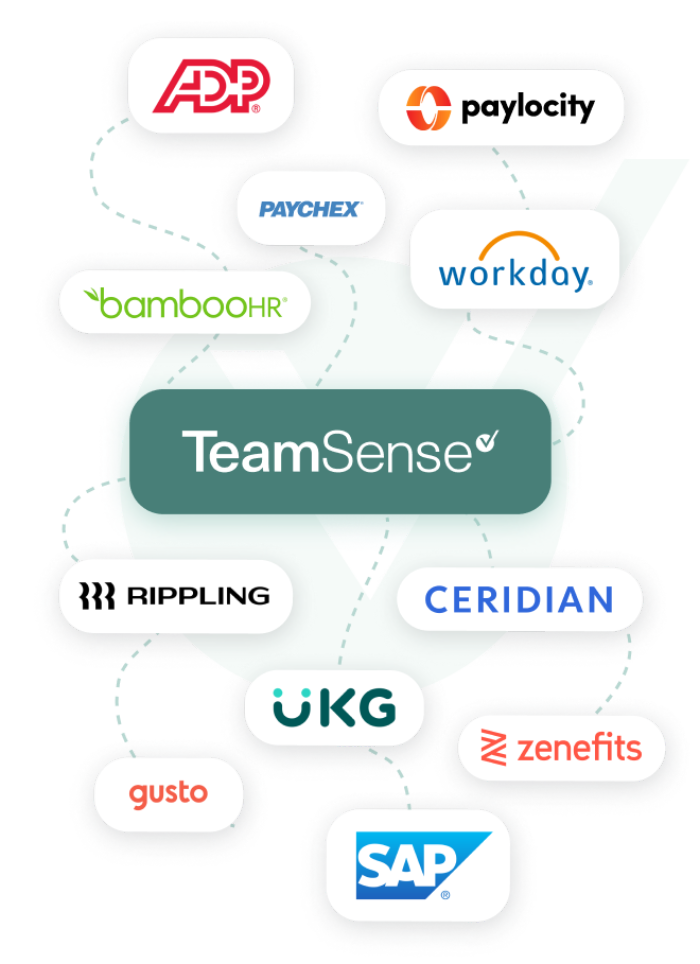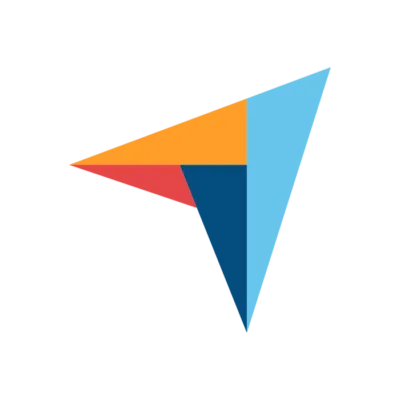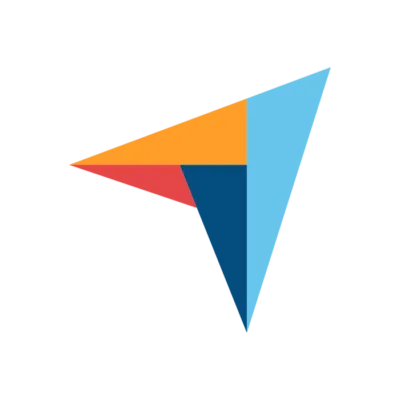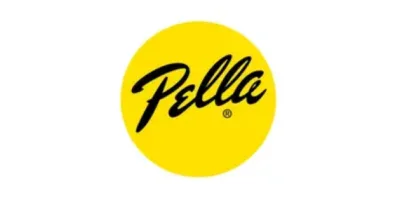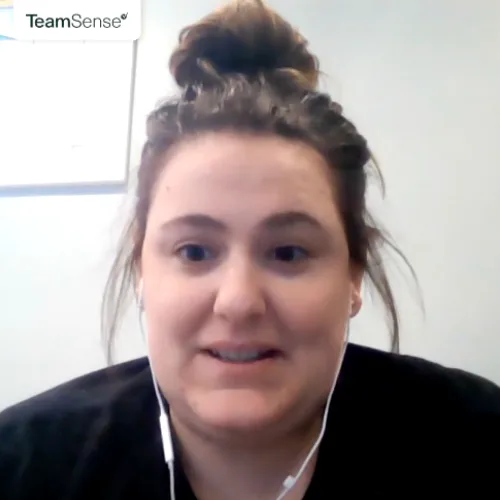 TeamSense PTO Tracking Software FAQs
An employee leave tracker is a tool used to help employees track their time off. Typically, it will allow employees to input the dates of their upcoming holidays, FMLA leave, sick days, vacation days and other upcoming leaves. Additionally, an employee leave tracker may also let employees input how many hours they worked each day so that they can keep track of their total hours worked for the year and request leaves in the future. This can be helpful for employers when it comes time to prepare payroll as they will be able to see how many hours an employee has worked, leave types, time off requests, and how many hours they are still entitled to.  An employee leave tracker is a foundational HR tool that all businesses should have in place and can come in the form of Excel templates, PTO software, or cloud-based leave management software.

A PTO tracker is a tool that helps employees keep track of their hours and days worked in accordance with PTO policies. This is part of a leave tracking process that can include vacation days, FMLA, personal time, sick days and accurately  and track working days. Typically, the tracker or PTO tracking software will allow employees to input their hours worked each day with just a few clicks. They can generate a report showing how many hours they have left in their allotted time and each leave request.

Some companies offer employee PTO tracking software that allows employees to input their hours online and may include an approval process. This can make it easier for employers to keep track of who is taking vacation days, personal time, unpaid leave, extended leave and other time off requests. It also helps businesses manage time, monitor employees maximum number of hours, approve leave requests, get reports for the entire company, review team availability, record historical data, and manage the entire process in one PTO tracking software.

A leave management software may offer integrations with Google Calendar, Google Sheets, Google Workspace, Microsoft Teams, performance management tools, payroll processing software, talent management tools, work management software, HR software, or company mobile apps.

A vacation tracker is an online tool that helps people keep track of their vacation days with just a few clicks. A vacation tracker can be used to record the dates and hours their next vacation day taken and generate reports on accrued time off. Some vacation tracker tools also allow users to enter their contact information, request a half day, request maternity leave, and add emergency contacts in case something happens during their trip and they need to be informed.

Many employers offer vacation tracking tools or PTO software to their employees, either through a website or a mobile app for requesting different leave types. The purpose of these vacation tracker tools is to help employees keep track of official holidays, public holidays, carry overs, how much time and how many vacation days they have left before they reach their maximum allotment of days or hours for paid time off. A vacation tracker dashboard can help employees avoid taking too much time off at once and ensure they take advantage of all the paid time off.

TeamSense is a leave management software and PTO tracking software that starts at $3 per employee per month. It's a text-based solution that makes it easy for team managers to track employee leave and time off. With TeamSense, you can easily see who is taking vacation days, sick days, a half day, FMLA, or personal time off. Plus, with the built-in reporting feature, you can quickly generate detailed reports on employee leave.  All updates, new features, and future improvements are included with the leave management software.

Employees can easily request vacation, enter upcoming leaves, comply with HR processes, with the TeamSense leave management system and PTO software.

Yes! The TeamSense automated leave management system offers a variety of customization options to help you track and manage employee leave beyond the related templates. You can choose the fields that appear on employee leave forms, customize notifications and instant alerts, add leave types, track employee time off, and set up automated triggers to help manage your team's sick leave and PTO.  This allows you to standardize and customize the system to support your leave policies.

The HR department can also export your team's leave data into various formats for further analysis or reporting. And if you need additional assistance with the leave management software to manage leave requests or anything else, our support team is happy to help.  This with automated leave management system is a huge time saver for you and your team to track sick leave, unpaid leave, and paid time off.

Our automated leave management system software is designed to give you all the information you need to properly monitor employee PTO, vacation, and FMLA.

PTO reports can be broken down by date, manager, and location. These reports can be exported from the leave management software and shared as well. When it comes to who has access to the reports, you can select permissions based on varying roles:

Super Admin: Access to all employees at all sites.
Site Admin: Access to all employees at assigned site
Manager: Access to employee status and roster.
Employee: Access to personal history

Other key features of our leave management software include:

Manage employee leave and employee schedules (PTO requests and unpaid time)
Leave insight reports showing trends by date, manager, and location
Text-based access from mobile phones
Helping you stay compliant with employee records
Unlimited users can be added for small businesses or enterprise
Integrations and capabilities to better track time
Human resources, leadership and team managers have direct access to the employee leave management system

Yes! The TeamSense leave management system works with ADP, Paylocity, Paycheck, Workday, BambooHR, Rippling, Ceridian, UKG, Zenefits, Gusto, and SAP (just to name a few). This makes it easy to keep track of your team's leave requests and PTO balances.

With our leave management software two-way sync feature, you can ensure that employee names and information are always up-to-date and accurate. This way, you can focus on managing the business without worrying about manually aligning various systems. In addition, our integration with leave management systems makes it easy to request leave, track PTO balances and leave balances, sick leave and vacation time. You can always stay on top of your team's sick leave, time off requests, and other leave requests and ensure everyone gets the time off they need.

As anyone who has managed an hourly workforce knows, the needs of hourly employees are different from those of salaried employees. Hourly employees often don't have access to email during the workday, and they may not have the tech to support a traditional leave management app. That's where the TeamSense automated leave management system comes in. Our time off management software is designed specifically for hourly and remote employees. This leave management software relies on texting, which is something everyone has in common.  All employee names and information are viewable from the dashboard along with team reporting and other special features.

Believe it or not, 99% of text messages are read—with 90% seen in the first three minutes. That makes text an ideal way to communicate with hourly employees who are often on the move. TeamSense is the best online leave management system for hourly and remote work. It's time to ditch your old time tracking tool and PTO tracker for the best leave management software available.  TeamSense is a great app that the entire team in HR will find super helpful to save time and money.  Tracking PTO and employee absences, reducing payroll errors, streamlining HR tasks, monitoring multiple locations, PTO policy compliance, employee time tracking, and driving employee engagement has never been easier with a good leave management system.

Skip the manual processing and having data manually entered by HR personnel.  Your HR managers deserve a functional system that boosts employee morale, offers flexible pricing, eases time management, and includes everything you need to manage time off requests in a robust platform.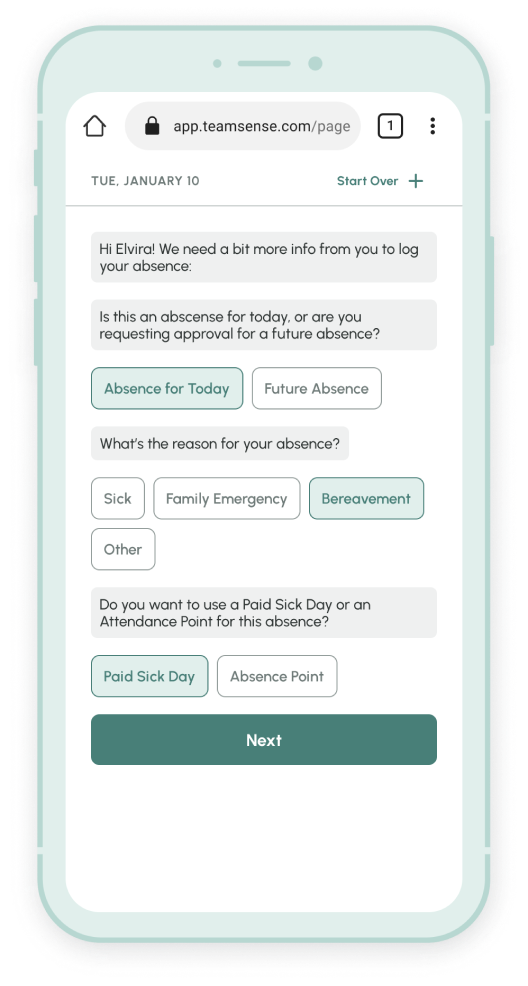 We Go Beyond Leave Management. See All We Can Do For You!