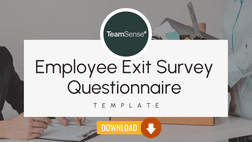 Employee Exit Survey Interview Template
Take a deep dive into why your employees leave your company with this employee exit survey. Our offboarding questionnaire provides the insight you need to make real changes in employee retention and turnover.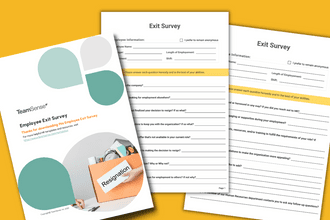 Download Your Exit Survey Template For Employees For Free
Enter your company email below to get instant access to the template.
The Only Printable Exit Interview Template You'll Need
Exit surveys are an important part of the offboarding process, but they can be time-consuming to create from scratch. That's why we've created this downloadable exit survey template for you to use! This 13-question employee exit survey will help you gather information about why your employee left and what could have been done to prevent it. It's quick and easy for the employee to fill out and even has an anonymous option, so you can still get the information you need without employee resistance.
Providing an exit questionnaire is one of the most important tools an organization has for understanding why employees leave. By asking departing employees why they are leaving, you can identify issues early and prevent them from becoming bigger problems down the road. Exit surveys can and do provide insights into why employees are leaving, and what can be done to improve employee retention rates. Just hit the download button below, and we will provide you with a ready-to-go printable exit survey template that you can use to reduce employee turnover in your organization.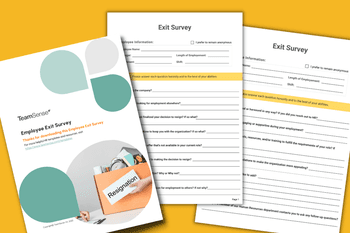 FAQs
The purpose of an exit survey is to gather information and feedback from departing employees about their experiences at the company. The best exit interview questions can provide valuable insight into areas for improvement in regard to employee retention and overall workplace satisfaction. Offboarding surveys can be extremely valuable, especially if the company is dealing with a mass exodus or higher than-normal retention rates. An exit interview form template provide deep insight and valuable feedback into a company's culture, ineffective company policies, job description, identify trends related to human capital, and help the HR department get honest answers from former employees.

Exit surveys can be administered in a variety of ways, such as a part of an offboarding package, in person, via email, or even through an online survey platform. It's important to provide multiple options for employees to ensure they feel comfortable providing honest feedback to the exit interview questions without fear of retribution. The survey should also offer the option for anonymity if desired. Alternatively, exit survey questions can be used to guide a face to face conversation about the employee's decision and employee's perspective. Conducting an exit interview like this may be a better way to guage employee satisfaction, employee motivation, and employee engagement as follow up questions can be asked to provide deeper constructive feedback.


Exit surveys should ideally be given to departing employees as soon as they put in their resignation, while they still have fresh experiences and insights to share. However, it's important to ensure that the employee feels comfortable filling out the survey and complete all the best exit interview questions without feeling rushed or pressured by deadlines. Conducting productive exit interviews help capture data on an organization's culture, organization's policies, and feedback on the particular position and direct manager each time an employee leaves. Exit interviews should be considered a best practice.

It's important to carefully review and analyze the results of the exit interview questions in order to identify any patterns or common themes. This information can then be used to make improvements in areas such as employee retention, benefits, company culture, and more. It's also important to take steps to address any specific concerns or issues raised by individual employees in the survey. Human Resources should track the interview questions and responses for all outgoing employees to reduce employee turnover, ensure company resources are used to provide sufficient training, and gain insight into the employee experience. The results of each exit interview questionnaire ca be reviewed by an HR manager or HR business partner the former employee feedback can be used to improve employee morale and the organization's work culture.

Some important topics to cover in an exit survey include overall job satisfaction, reasons for leaving, potential improvements for the company, benefits, and compensation, work-life balance, communication and management, and company culture. It's also important to leave room for open-ended exit interview questions and additional feedback. These exit interview survey questions and each employee's answer can be used to improve employee relations and reduce employee turnover for all current and future employees.


An exit interview is typically a one-on-one conversation with the departing employee, while an exit survey is a written questionnaire that can be filled out by multiple employees. Both can provide valuable insights and feedback, but an exit survey can offer more anonymity and allow for a larger volume of responses. It's recommended to use both in tandem for the most comprehensive understanding of employee experiences and reasons for leaving when asking exit interview questions. Conducting an exit interview is often done by someone on the HR team to ensure immediate attention is given to the outgoing employee. Conducting exit interviews is often perceived as a more personal and kind gesture when employees decide to leave.

While a paper exit survey may be convenient and easily accessible, it's important to offer multiple options for employees to ensure they feel comfortable providing honest feedback. If your organization is on the larger side, using an online survey platform may be more efficient in terms of collecting and organizing responses. It's ultimately up to the organization and what method they feel will work best for their specific needs and circumstances.

It's not always easy to get employees to fill out paperwork or jump on a computer to fill out questionnaires, and that's why TeamSense offers employee survey delivery via text! 99% of text messages are read—90% are seen in the first three minutes, which means that TeamSense can help you get the most accurate and timely feedback on employee offboarding experiences. They can fill out the exit questionnaire right from their phone, and you'll get all the data in one organized place. This ensures all employee exit survey questions are answered and that employee exit survey results are captured.


This employee exit survey template is free for download and use within your organization. No attribution is required. Resell, or distribution over the internet, or any other medium is strictly prohibited. TeamSense owns all rights, titles, and interests in and to the employee exit survey template.

By using this offboarding survey, you agree to the terms and conditions set forth by TeamSense.com. This template is provided "as is" without warranty of any kind, either express or implied. If you'd like to use it for commercial purposes, please contact us for licensing options.

We hope you find this exit questionnaire for employees helpful in streamlining the onboarding process for your company. If you have any questions or suggestions on how we can improve the exit interview templates or on specific exit interview questions, please don't hesitate to reach out to us at hello@teamsense.com! We would love to hear from you. Thanks for using our template for exit interviews!