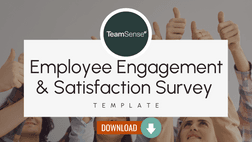 Sample Employee Engagement & Satisfaction Survey
Employee satisfaction should be top of mind for every company! This employee engagement survey is a simple questionnaire that allows your employees to express how they feel and provides insight into the good and the improvable.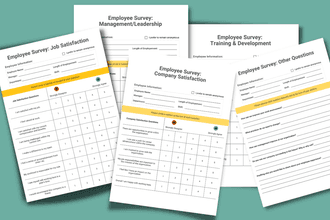 Download Your Employee Engagement Survey Template For Free
Enter your company email below to get instant access to the template.
Free Employee Survey Template - PDF Download
Download our employee engagement, (satisfaction) questionnaire template for free! - Employee engagement surveys are an important tool for managers and human resources professionals to get feedback from employees. This printable employee survey template can help identify areas where employees feel engaged and motivated, as well as areas where they may feel disenfranchised or unmotivated.
This employee survey form can be used on an ongoing basis to gauge employee satisfaction and uncover areas for improvement within the company. Our easy-to-use template includes questions on job satisfaction, communication, overall morale, benefits, career growth opportunities, and more. Each section of the form is broken up into different pages and allows you to choose what survey questions you want to hand out to employees.
With simple strongly agree and strongly disagree rating scales, as well as open-ended questions, this employee engagement survey allows for comprehensive feedback from your team. Start improving morale and productivity within your company by downloading our free employee engagement questionnaire template today.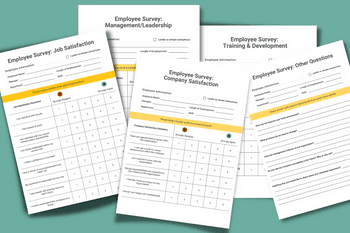 FAQs
Employee turnover and absenteeism are often a direct result of unsatisfied employees. By regularly conducting employee satisfaction surveys, managers and HR professionals can identify areas where employees may be feeling disengaged or unhappy, and address those issues before they result in costly turnover. Additionally, satisfied employees often lead to higher levels of productivity and overall company success.

Surveys, like this employee engagement PDF, enable HR to ask questions without putting employees on the spot and allow for anonymous feedback (if you choose), leading to more honest responses.


Just a few questions from an employee satisfaction survey that can lead to actionable feedback and actionable insights that impact the company's culture, company's goals, company's mission, company's performance, and company's success. Employee surveys provide a clear understanding of the employee experience so leadership and HR managers can work to build a more engaged workforce, provide healthy work life balance, improve job performance, and adjust their management style.

It may sounds obvious, but employee satisfaction survey questions should structured to ensure the research conducted does measure employee satisfaction. Don't try to include too many additional areas. Employee engagement survey results should be actionable so employees feel valued and ensure employees see the company values and company's direction aligned.

A yearly employee satisfaction survey is a good starting point, but regular check-ins can also be beneficial. Consider conducting surveys after a major company change or transition, during performance review periods, or after implementing a new benefit or policy. It's important to gather employee feedback on a regular basis to ensure that employees are happy and engaged in their work. In addition to annual surveys, a monthly or quarterly pulse survey can provide regular valuable feedback about workplace morale and satisfaction levels as things change. Collecting feedback and ongoing employee insights help reduce employee turnover, improve the employer employee relationship, and lead to better decisions that improve employee satisfaction and organizational health.

An employee engagement survey tool has all the resources to create surveys, measure employee engagement, set up survey templates, benchmark scores to dig deeper, add custom questions, and track employee well being.

Once the survey is completed, analyze the results by looking for patterns or trends in the responses. Use this information to come up with a plan for addressing any issues that were identified. It's important to involve employees in the change process and keep them updated on any new training sessions or actions being taken as a result of their feedback. Following up after implementing changes is also crucial in order to gauge the effectiveness of those changes and continue improving employee satisfaction.

Asking survey questions and and collecting survey responses is not enough. It's the follow through on the employee satisfaction survey that improves employees opinions, provides more meaningful work and professional growth, and makes its easier to retain employees. That's why the most successful companies with a strong company culture have higher employee retention and employee satisfaction. Showing genuine interest in honest feedback collect from an employee engagement surveys is what makes the impact.

There is no set number of questions for an employee survey - it depends on the specific needs and goals of your company. Generally, it's best to keep the survey short and focused, while still covering all necessary areas. Consider what information you need from employees and prioritize those questions in your survey. It's also important to balance open-ended questions with rating scales in order to gather both qualitative and quantitative data.

The number of questions may vary depending on how long an employee has been with the company as well. New employees should be surveyed about the recruitment process and hiring team. An employee satisfaction survey for existing employees should include questions about other areas like personal growth, career development and their current position. An employee exit survey template for outgoing employees may include questions about why they are leaving to provide insights on other disengaged employees and what can be done to help employees feel valued and get employees engaged.

For small business owners or those with limited resources, a downloadable employee survey template can be a helpful and cost-effective option. However, larger companies may want to consider investing in an online employee engagement solution that allows for more customization and the ability to analyze results in real-time.


Employee engagement software, like the one TeamSense offers, empowers companies to engage not only in long-form satisfaction surveys but also in short-form pulse surveys via text! It also compiles a data set you can use to track employee satisfaction over time and make changes accordingly. Whichever option you choose, the important thing is to regularly gather employee feedback and use it to create a positive work environment for your team.


This engagement survey template is free for download and use within your organization. No attribution is required. Resell, or distribution over the internet, or any other medium is strictly prohibited. TeamSense owns all rights, titles, and interests in and to the engagement survey.

By using this employee satisfaction survey template, you agree to the terms and conditions set forth by TeamSense.com. This template is provided "as is" without warranty of any kind, either express or implied. If you'd like to use it for commercial purposes, please contact us for licensing options.

We hope you find this engagement survey template helpful in streamlining the onboarding process for your company. If you have any questions or suggestions on how we can improve it, please don't hesitate to reach out to us at hello@teamsense.com! We would love to hear from you. Thanks for using our template!


Employee satisfaction survey questions should include a variety of areas to collect meaningful feedback. The goal is to not just have employees feel heard and to have employees feel valued, but to also understand each key factor as it relates to the organization's health, organization's strengths, and organizational culture. Here are several possible areas to ask questions about and to collect employee feedback on: company culture, employee benefits, employee happiness, employee morale, employee recognition, employee wellness, health benefits, job role, job satisfaction, the management team, professional development, safety practices, team leaders, training programs, wellness programs, work environment, work life balance, and workplace safety.

Conducting employee engagement surveys this in depth is not possible to do all the time. Instead it's better to do an annual employee survey that dives deep into all areas of the business workplace culture, and then monitor changes with monthly or quarterly employee pulse surveys. This guards against survey fatigue while gathering regular data and qualitative feedback on organizational health as employees opinions change.
Build a More Connected Organization Today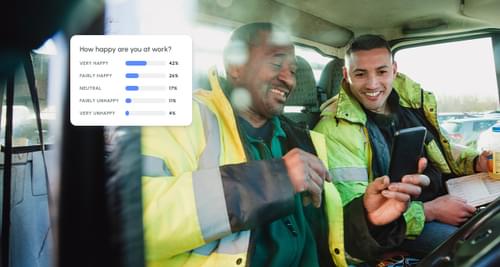 Solutions
Employee Engagement
Get feedback and increase team member engagement with surveys over text.
Learn More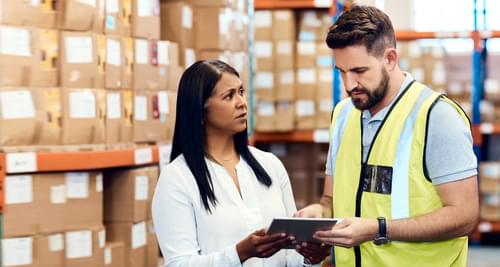 Blog
How to Write an Employee Attendance Write Up
Need help writing an attendance write-up? With our step-by-step guide and practical examples, you won't have any questions about what to include and how to format it. Plus, discover proactive tips to foster a company culture that inspires punctuality and regular attendance.

Sheila Stafford
CEO, TeamSense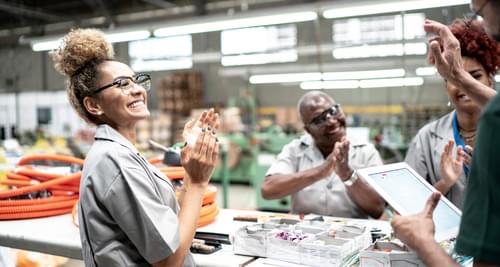 Blog
The Impact of Absenteeism on Manufacturing Productivity
Productivity - it's a key component in every industry, but some may argue that it's THE center of everything when it comes to manufacturing. But what happens when you can't get employees in the door? Let's take a look!

Sheila Stafford
CEO, TeamSense