We're very excited to share the latest TeamSense functionality launched earlier this month. If you're more of a video person, you can watch this 30-minute Product Release webinar. Otherwise read on…
Transparency for All!
TeamSense has transformed the call-off process in a host of different ways–automation, simplicity, accuracy, efficiency–but one of the most important goals is transparency. No one–whether employee, their manager, or HR–should have to guess about where an employee stands when it comes to their attendance. This release delivers progress on our vision for transparency with two key upgrades:

A new Team Leader role to provide more absence context to supervisors

Pre-call-off attendance history and points balances for employees
Team Leader Role: Need-to-Know Visibility Into Attendance
Before this release, there were only two roles in TeamSense: Employee and Admin. We've added Team Leader as a third user role, and we're excited about this "role in the middle" for managers and supervisors.
Users assigned the Team Leader role have a limited view into what an Admin might see, including on-demand access to view absence histories for their entire team, with the option to see detailed absence responses (or not) based on organizational policy. Team Leaders can also add absences directly into TeamSense–handy if an employee contacts their manager directly to call off, or if there's a no-call/no-show.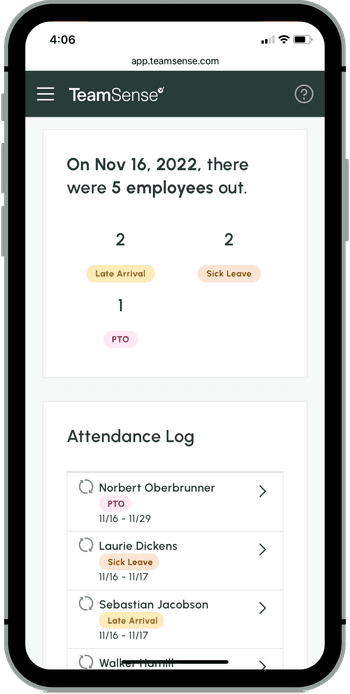 Attendance History & Points Warnings: "Are You Sure About That?"
Empowering supervisors with transparency is important to us, but so is providing that same transparency to employees themselves. Customers have told us that employees - myself included - don't keep a running tally of their absences on their nightstand. In fact, many employees have zero idea where they stand when it comes to their absences, balances, or total number of points. 
With this release, TeamSense brings transparency to employees by showing their points balance and number of absences before they submit a new call-off, enabling ownership and accountability for employees. At the same time, HR and supervisors love the efficiency that comes from eliminating time spent answering employee inquiries about their points balances.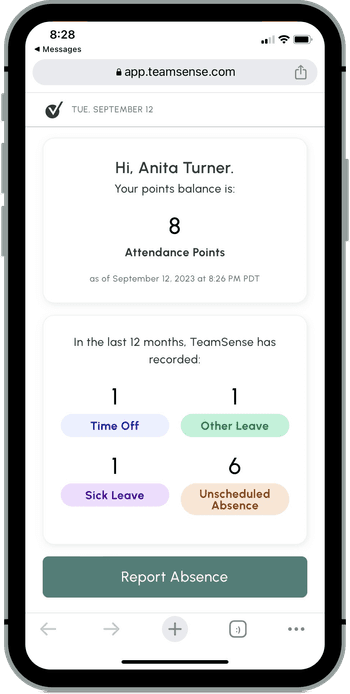 We're excited about the impact this kind of transparency can have on an organization. We've seen customers use TeamSense to introduce more transparency into their attendance process and achieve a 39% reduction in absenteeism - and we're just getting started. Keep an eye out for more features coming to further our vision of transparency and accountability in attendance.
And As If That Weren't Enough…Other Cool Features in This Release
We love hearing feedback and ideas from so many customers - and couldn't resist including some of your suggestions that fit within the spirit of transparency, accountability, and efficiency. These include:

Dial-in support for new numbers. TeamSense is known for transforming the call-off process with the simplicity of text messages - and also enabling employees to automatically update their phone number when they call off. At the same time, we recognize that not every hourly employee can or wants to use text - which is why we offer dial-in call-off as well. Previously, dial-in call-off captured an employee's call-off details and seamlessly integrated them with the rest of the organization's absence data…but it didn't give the employee the option to dial in from a new number and update their contact information. We've changed that with this release, enabling all employees to maintain perfect contact information in TeamSense regardless of the method they use to call off. (One minor caveat: this feature only works for employees with numerical employee IDs, who can enter their employee ID using a phone keypad.)
Sorting capability for Attendance Log. This one's for HR teams supporting large teams and tracking hundreds of call-offs a day - sorting those columns makes it easier to navigate that list as each absence gets processed.
New column in the Attendance Report shows the identity of who marked an absence as synced to the time & attendance system to make auditing data a breeze.
Updated status filters for the Attendance Summary now filter the Attendance Log itself rather than re-routing to the Employees page - a far more intuitive experience!
If you have a suggestion for a feature in TeamSense, we'd love to hear it! Drop us a note at ideas@teamsense.com. If you would like to learn more about any of the features above, schedule a demo! We'd love to show them off and answer your questions. Speaking of questions…
You Asked, We Answered: Q&A from the Webinar
If we missed you at our September Product Release Webinar, we hope to see you at the next one. But the September attendees did you a solid. They asked great questions, and we'll give you the answers here as enticement to sign up for our next release webinar 😉.
Question: It's great that employees can see their points balance now, but can we see points in the Admin dashboard?

Answer: We're working on that right now, so stay tuned! If you're a customer who wants to help us shape this feature, send your ideas to ideas@teamsense.com.
Question: Can we have other, non-points balances displayed in TeamSense? Like a vacation day or sick day balance?

Answer: Great idea - we're exploring that! We'd love your feedback on what employees, supervisors, and admins want to see when they look at different types of balances, again: ideas@teamsense.com.
Question: How do we add a points balance integration?

Answer: Contact your Customer Success Manager to discuss where your points balances are stored today and how an integration could fit your needs.
TeamSense Never Stops Sprinting. What's Coming Next?
We're continuing to work to improve transparency and visibility into attendance, because we believe it should be easy to know where an employee stands with respect to attendance–for the employee herself, her manager, and her HR team. If that vision gets you excited, stay tuned!
Reach Your Hourly Workers On-Demand With Text
No matter if your team is 1,000 or 100,000 strong - TeamSense helps you stay in touch with every hourly employee! Book a demo and try it for yourself!