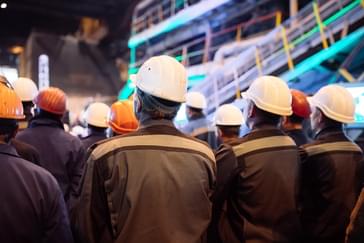 Sep 19, 2023
How Automotive Suppliers Stay Connected to Their Teams During the UAW Strike
Proactive Preparation for Fast, Frequent Communication

Adam St. Clair
Account Executive
I'm an Account Executive at TeamSense, and I support several customers in the automotive parts industry. Their products go into vehicles manufactured by the Big 3 automakers. Even though their workers are not members of the United Auto Workers (UAW) union that are striking, they're worried. They know that their teams may be impacted by production stoppages caused by the UAW strike, especially if it's not resolved quickly.

They're worried, and as an account executive, it's my job to be worried for them too. When a strike was imminent, I immediately reached out to my partners to see if I could support them now or determine how I can help them prepare for the future, if the situation changed.
One of those partners is Jennifer, an HR Manager. Jennifer grew up in Detroit, and she has worked in the automotive industry for most of her career. She's no stranger to strikes, but this time was different. "This time I have TeamSense," she told me. She described the peace of mind she feels knowing that she can stay connected with her entire team. "Communication provides comfort, and we struggled in the past to provide that comfort in times like these."
Jennifer supports roughly 300 hourly employees at her manufacturing site. They are not supplying sites impacted by the initial walkout on 9/15/23, so there was no immediate work stoppage at their plant. However, as the strike loomed, Jennifer anticipated the questions from team members. How do the strikes impact us? Are we still coming to work? What should we expect over the next few weeks if the strike continues?
Jennifer described how things used to be in times of uncertainty. "If we didn't have TeamSense we would be scrambling around, trying to figure out how to keep our people in the know. Circumstances like these are dynamic. Things change quickly, and town halls and shift startup meetings are not enough. The meetings are not as timely or effective as a text, which everyone uses and appreciates. Before [TeamSense], knowing we were reaching everyone was difficult. We operate 3 shifts, 7-days a week, and not all employees work every day. A text message to the entire team ensures everyone is looped in."
As questions started coming in by email, Jennifer and her HR team sent a mass communication to answer the most important ones for everyone, all at once. This saved the hours it would have taken to answer them individually, and it also made sure that the communication was consistent. She even proactively created a TeamSense mobile form, to leverage in the event her team is impacted. The form is meant to keep a pulse of the team's concerns and collect important information to enable a smooth return to work.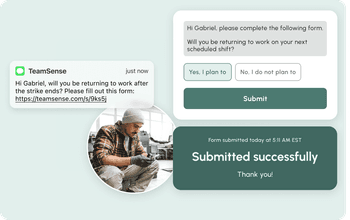 Like the rest of us, Jennifer's team doesn't know how long this strike will last, but her team and employees feel well-informed and cared for based on her proactive, consistent communication.
Next, I spoke with Casey, an HR leader and customer at another parts supplier. "Casey, this is Adam. I'm calling to share how other HR leaders are preparing in the event the strike impacts their team and I would like to share some ideas for how TeamSense might help."
"Thanks, Adam," she said. I could hear some of the stress in her voice. "Last time one of the Big 3 walked out, communication was one of our biggest challenges. We tried everything to keep everyone informed, but our team still felt in the dark about what was going on. This time around, TeamSense has us prepared. Our team has already shared how much they appreciate the improved communication TeamSense provides. We feel a new sense of confidence this time around."
Casey's team also leveraged similar text-based mass communications as Jennifer's team. But, in addition to sending mass-messages, Casey leveraged the Employee Portal feature in TeamSense to provide employees with information on-demand. This keeps her team members informed as the situation changes, without interrupting their days with too many text updates.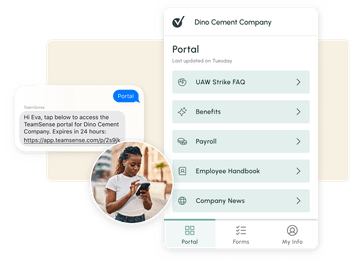 Through supporting my customers in this time of uncertainty, I learned three important lessons:
Proactive communication is CRITICAL in building and maintaining relationships.

Communication goes much further if you understand your employees and meet them where they are. Mass text and the on-demand portal can solve the same needs. It's important to understand the audience and their interaction preferences before deciding to rely on one, the other, or both at once.

When in doubt, reach out! I was worried that I might be bothering my partners during a crazy time. Instead they were delighted to hear from me and appreciated the chance to swap ideas. I have to believe that this rule also holds true for their employees. Even if the HR team sends a message saying "no updates," that communication builds confidence that the company will share news as things change.
As we all watch the UAW strike, hoping it ends quickly, I feel proud that our product helps our customers stay close to their employees, no matter what comes their way.

See TeamSense in action.
Boost supervisor productivity, reduce legal risk, and reach 100% of your hourly employees. Get started today.